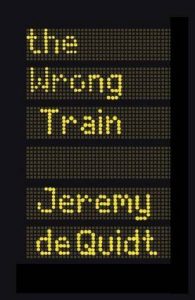 De Quidt, Jeremy. The Wrong Train.  David Fickling Books, 2017. 9781338121254. 206 p.  $18.99.  Gr. 7-10.
This collection of eight truly creepy short stories has an equally creepy framing device:  a boy gets on a train going the wrong way and decides to get off as soon as he can. Unfortunately, the stop turns out to be dimly lit and nearly deserted. Train after train passes by without picking him up. The boy meets a strange old man who persists in telling him tales of terror to pass the time. Each story has a unique setting and characters, and each story has an ending more spine-tingling than the last. As the evening wears on, the boy does everything except beg the old man to stop telling the stories, but he persists, and there is an especially chilling twist at the end. THOUGHTS: This book is perfect for fans of R.L. Stine and for kids who are eager to read, but not quite ready for, Stephen King. Note that The Wrong Train isn't for the faint of heart: there are no happy endings to any of these stories, including the frame story. Recommended for all middle school and high school libraries, as it's almost impossible to have too much good horror fiction on hand.
Story Collection, Horror                   Maggie Bokelman, Cumberland Valley SD
Self, Jeffrey. A Very, Very Bad Thing. New York: PUSH, 2017. 978-1-338-11840-7. 240 p. $17.99. Gr. 8 and up.
Jeffrey Self's A Very, Very Bad Thing reads like a modern take on John Knowles' classic A Separate Peace. Marley is an average teen, who struggles with finding something he's passionate about and mostly wants to be left alone. When he meets new boy Christopher, his worldview completely changes, and he falls hard and fast. Unfortunately, Christopher's father is an evangelical preacher who believes homosexuality is a sin, and who has sent his son to numerous conversion therapy camps in the hopes of stamping out all of Christopher's unnatural urges. Despite this, Christopher and Marley find support from Marley's parents – former hippies with a penchant for meditative circles and extreme creative expression – his theater loving best friend, Audrey, who often acts as his conscience, and Christopher's aunt, who does not support her brother-in-law's views in the least. When Christopher's father sends him to yet another conversion therapy camp, disaster strikes. The book toggles back in forth between the present and several months in the past; the present day chapters slowly reveal details about Marley's rise to fame, and his shame about the circumstances that lead him there.  THOUGHTS:  This is not a subtle story; the message is loud, and clear, and gets in the way of could be a compelling tale. While the characters are charming at times, for the majority of the book they are all stereotypical archetypes, which hinders the reader's ability to fully connect with any of them.
Realistic Fiction     Lauren Friedman-Way, The Baldwin School
Legrand, Claire. Furyborn. New York: Sourcebooks, 2018. 978-1492656623. 512 p. $18.99. Gr. 10 and up.
Legrand has stepped out of her middle-grade shoes and leapt right into the heart of YA literature with a blockbuster of a novel. Furyborn, the first book in the Emperium trilogy, is an epic (in both scope and length – it's a whopping 512 pages) fantasy adventure written from two different points of view: Rielle's and Eliana's, two strong-minded, fierce, and conflicted women whose loyalties are tested over and over again. There is a prophecy that two queens will rise: the Sun Queen and the Blood Queen, both of whom will have the ability to control all seven elemental magics – wind, fire, water, shadow, light, metal, and earth. After Rielle inadvertently displays her astounding magical abilities, it is discovered that she, in fact, can manipulate all of the elements. She is put through a series of trials to test not just her abilities, but also her control – when she was five years old, she lost her temper, and set her house on fire, resulting in the death of her mother. But Rielle has another secret: she has been communicating with an angel inside her head, an angel who's help comes at a steep cost. One thousand years later, almost all of the lands have been conquered by the Emperor, and Rielle, her magic, and angels are nothing but myths and legends that few believe ever existed in the first place.  Eliana, known as the Dread of Orline, is one of those people; she is a hired assassin, working for the Emperor, hunting down rebels. She, too, has a secret: she cannot be injured; wounds close up, bones reknit, burns heal. She is forced to confront who or what she is when she learns some shocking secrets about her past. Legrand is a natural storyteller, and has imbued her novel with a cast of complex and diverse characters; she cleverly ends every chapter with a cliffhanger, and since each chapter flips between Rielle and Eliana, it's almost impossible to put down. This is a very mature read, however, and not appropriate for younger readers – there is an extremely graphic sex scene, and the text is peppered with casual swearing. Thoughts: This is a perfect novel for fans of Kate Elliott's Court of Five series, Sabaa Tahir's An Ember in the Ashes series, and Kiersten White's And I Darken series.
Fantasy      Lauren Friedman-Way, The Baldwin School