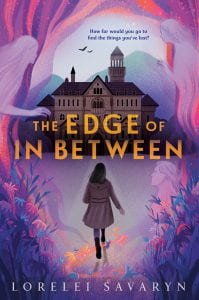 Savaryn, Lorelei. The Edge of In Between. Viking Books for Young Readers, 2022. ISBN 9780593202098. 304 p. $17.99 Grades 4-8.
Lottie enjoys an idyllic life with her parents in a city where almost everyone she knows has magical abilities. The Living Gray somehow exist without magic, but Lottie is sure that she will never suffer that depressing and magic-less fate. Then Lottie experiences a tremendous tragedy, and her magic slips away, leaving her feeling lost and hopeless. When Lottie's uncle offers her a chance to live in the In Between and regain her magic and her family, she jumps at the chance, but the magic she is searching for seems permanently out of reach. Eventually, Lottie befriends a family who lives and works on her uncle's estate and discovers that she can learn to coexist with loss, not as one of the Living Gray, but as a vivid character in a rich and rewarding life of her own.
THOUGHTS: Reminiscent of Frances Hodgson Burnett's The Secret Garden, this book strikes all the right notes of tragic orphan storytelling and dreamy magical realism. Discussions about life, grief, letting go of lost family, and moving forward with joy are all part of this haunting story. The way Lottie and her new friends intertwine and support each other leaves the reader with a satisfyingly hopeful ending.
Fantasy Fiction          Erin Faulkner, Cumberland Valley SD