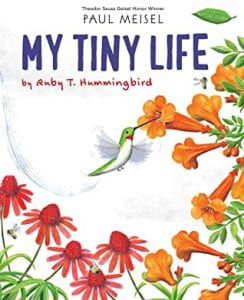 Meisel, Paul. My Tiny Life by Ruby T. Hummingbird. Holiday House, 2021. 978-0-823-44322-2. 36 p. Grades K-2. $17.99.
This charming picture book is told from the point of view of a hummingbird called Ruby. Written in a diary format, the humorous narrative follows the bird's life cycle. The story begins with Ruby exiting his tiny egg and looking forward to a tasty meal of insects and nectar delivered by his mother. Soon the small bird begins to fly and finds his own source of food. Ruby needs to learn to defend himself from the other hummingbirds, who also enjoy eating at the flower-shaped feeder. With the arrival of fall, this tiny creature flies to Mexico and makes an exhausting return trip by flying 500 miles nonstop over the Gulf of Mexico. In the spring, Ruby turns his thoughts to finding a mate. The text is sparse, with one or two sentences per page, which allows the pictures to take center stage. Meisel uses watercolors, acrylics, and gouache to create his colorful large scale full bleed illustrations. He does an excellent job showing the motion of the hummingbird's fast beating wings and its amazing aviation skills, as the birds go up, down, backwards and even upside down. The author includes facts about these feathered friends on the front endpapers and in the back matter and gives helpful comparisons to allow readers to imagine their actual size.
THOUGHTS: Children will enjoy poring over the drawings as they read about this interesting animal. They may want to check out other books in Meisel's "A Nature Diary" series to learn about the praying mantis, the bluebird and the always popular stink bug. This book is a worthwhile addition to elementary collections as a good resource for science units, as a mentor text for point of view, and creative nonfiction and for just plain enjoyment.
598.764, Hummingbirds          Denise Medwick, Retired, PSLA Member