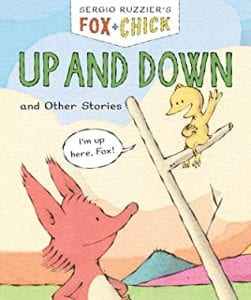 Ruzzier, Sergio. Up and Down and Other Stories. Chronicle, 2022. 978-1-452-18339-8. 46 p. $14.99. Grades K-2.
Fox and Chick have returned in this volume featuring three short stories. While Fox and Chick may not seem like obvious friends, they compliment each other–Chick with his enthusiasm and impulsiveness and Fox with his patience and logic. In "Up and Down," Chick excitedly climbs a tree, only to become too frightened to climb down–will he be there forever or will the always steady Fox be able to figure out a way for him to get down? In "Seventeen Snowflakes" Chick can't wait for it to snow so he can use his sled. He understandably is disappointed when Fox informs him that it will take more than just a few snowflakes to fall so there is enough snow to sled. In "The New Bookcase," Fox presents Chick with a present – a book! When Chick laments that he has nowhere to store the book, Fox suggests he build a bookcase. Of course, Chick decides to build one that minute. Each story is told in graphic novel style panels, although the number of panels varies per page–some pages have one panel, others contain as many as four panels.
THOUGHTS: This collection will no doubt hold appeal for early readers who are sure to enjoy the humorous situations Chick seems to get into. Fox and Chick show readers you can be friends with people who are different from you. These stories easily could be included in lessons on friendship and accepting others.
Picture Book          Elizabeth Henry, Lampeter-Strasburg SD