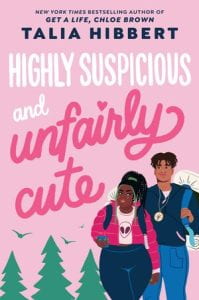 Hibbert, Talia. Highly Suspicious and Unfairly Cute. Joy Revolution. 2023. 978-0-593-48233-9. $19.99. 315 p. Grades 9-12.
Senior year at a British upper school finds ex-best friends, spunky, outspoken Tik-Toker Celine Bangura and the popular, accomplished bisexual Bradley Graeme circling each other as they compete for a $30,000 scholarship senior year from the Breakspeare Enrichment Program (BEP). A human rights lawyer noted for her attention to other minority groups, Katharine Breakspeare has set up a series of weeklong outward-bound type of challenges in surrounding forests for a selected group of which academically-driven Celine and Bradley are a part. Told in monthly installments in the stream of consciousness of the two protagonists, the reader is privy to their initial barbed repartee and secret attractions, then their insecurities about each others' ability to fall in love. Bradley comes from a tight-knit family and suffers from obsessive compulsive disorder (though it seems to be a mild condition) who is struggling with his college major decision. Abandoned by her lawyer father, Celine has daddy issues making trust difficult for her. Her feelings become more complicated as a contender in the BEP because her father's firm is one of the sponsors. Diverse and authentic minor characters enrich the story as Brad and Celine rekindle their friendship and teeter on making it more. Though the plot may be predictable, the witty exchanges of Celine and Brad are not. Author Talia Hibbert usually writes for adults but this young adult novel maintains a breezy, humorous tone throughout with minimum foul language and sexual situations. Hibbert's adept talent to create a teen world with interesting feelings and conversations sets this book above the usual meet-cute books. Includes a glossary of Britishisms for teens who do not frequent BritBox, Acorn, or PBS.
THOUGHTS: Suitable for grade 8 readers searching for a funny romance. Nothing heavy about this story. Though Hibbert could have delved into Brad's OCD or Celine's feelings of abandonment, or the failure of each of them to admit their feelings, she doesn't. That decision is more than okay; it's refreshing. Give this book to a reader who might go for Helen Fielding's Bridget Jones' Diary.
Realistic Fiction