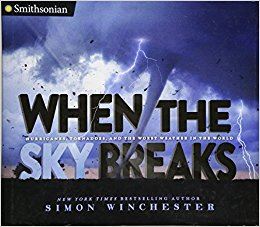 Winchester, Simon.  When the Sky Breaks: Hurricanes, Tornadoes, and the Worst Weather in the World.  Smithsonian/Viking, 2017. 978-0451-476357  $22.99  88 pp.  Gr. 7-12.
Simon Winchester, amateur meteorologist, follows his award-winning When the Earth Shakes: Earthquakes, Volcanoes, and Tsunamis (2016) with a second book which focuses on hurricanes (also known as cyclones or typhoons, depending upon rotation and hemisphere), tornadoes, El Nino, La Nina, and why these events occur.  He profiles Hurricane Sandy's life and effects on New York and New Jersey in 2012; the deadliest U.S. hurricane on record, the Great Galveston Hurricane which hit Texas in 1900; a Hong Kong hurricane he experienced in 1995; one 1974 hurricane which leveled Darwin, Australia; Typhoon Haiyan which hit the Philippines in 2013; and of course, Hurricane Katrina which devastated New Orleans in 2005.  Through his often-suspenseful explanations, he explains meteorological instruments; the Coriolis effect (of the rotation of the earth on winds, causing circular wind patterns); the U.S. squadron of hurricane hunters; and the Walker Circulation, named after Gilbert Walker, who proved that "if something meteorological was happening on one side of the ocean, the exact opposite was happening on the other side" (53).  How to maintain public safety while not 'crying wolf' amid often unpredictable ferocious storms is the work of the National Oceanic and Atmospheric Adminstration (NOAA) and the National Weather Service (NWS).  While hurricanes may pummel land with wind and water, tornadoes have "just" wind, but they more than make up for it with the ferocity and speed of the winds (the highest rating is EF5 at 201+ mph).  Winchester states that our world is warming, and the Pacific Ocean will "carry the world's heat burden on its own" (77), but that "the world will eventually allow itself to come back into balance" (77).  Still, Winchester pushes for better efforts to clean up our world, for our own sake and for the future.  Recommended Reading, Index.  THOUGHTS: A solid addition to science and STEM collections.
551.5  Weather             Melissa Scott, Shenango High School
Newquist, H.P. The Book of Chocolate: The Amazing Story of the World's Favorite Candy. Viking, 2017.  978-0670-015740. $17.99. 156 pp. Gr. 5-12.
Beginning with "What is chocolate, really?" and detailing how the cocoa (cacao) tree grows, Newquist begins the absorbing story of how the chocolate industry grew (to enormous proportions) and how the chocolate we eat is influenced by continent and makers.  Chocolate has been used as a drug, as money, as aphrodisiac, and daily is used as a delicious treat.  The Mayans and the Aztecs traded cocoa; Columbus was initially unimpressed with the beans, but once Cortes understood the bitter Aztec cocoa beverage (and was treated as the god Quetzalcoatl), he seized numerous plantations and re-routed the cocoa—and the recipe for the cocoa drink—to Spain.  Its popularity grew among the wealthy.  When people tasted it, they wanted more.  Demand was huge for this drink, and fortunately, many were experimenting with flavors and pressing.  Not until 1847 was the chocolate bar born; in 1875, milk chocolate (courtesy of Henri Nestle and Daniel Peter).  Just four years later, Rodolphe Lindt created the "conch" machine that made chocolate smooth, pourable, and revolutionary; he kept his methods secret for two decades.  Milton Hershey in Pennsylvania thus created his own methods to make a smooth milk chocolate and form an empire.  The candy battles were just beginning.  Newquist brings humanity to the history of chocolate, explaining how greed and flavors, advertising and demand would influence the industry in both the United States and in Europe (where Hershey's chocolate are sneered at as inferior).  Newquist is complete in his explanation of chocolate manufacturing today and small chocolate makers worldwide, and what chemically makes chocolate so addictive.  He does include information on the dark side of the chocolate trade: human slavery on African plantations, and how companies are trying to address the issue.  And if you'd like to know the most popular chocolate brand in the U.S today?  It's M&M's!  Glossary, sources, index.
THOUGHTS: Newquist has created a highly readable account of the history of chocolate, colorful and full of research and photos.  Anyone who likes chocolate or who wonders about the major producers or future of the industry will enjoy this book.  More suitable for younger readers than Kay Frydenborg's also interesting Chocolate: Sweet Science and Dark Secrets of the World's Favorite Treat (2015).  This could also be paired with Gillian Richardson's Ten Plants That Shook the World (2013) or Michael O. Tunnell's Candy Bomber: The Story of Berlin Airlift's 'Chocolate Pilot'" (2010) or any examination of industry and economics.
338.4; Chocolate Industry              Melissa Scott, Shenango High School
Lourie, Peter. Jack London and the Klondike Gold Rush.  Henry Holt & Company, 2017. 978-08050-97573  $18.99  192 pp.  Grades 5-12.
One year in the life of Jack London; one year that killed many other men; one year that gave him all the fodder he needed for his exceptional stories about the gold rush and life in the harsh outdoor conditions of the Klondike.  In 1897, London joined the hordes of men headed on a 500-mile journey to the Klondike with hopes of finding gold.  While some found gold, many more did not.  London's youth, optimism, physical strength and ability to connect with people helped him with his group.  Lourie wisely adds London's own words about the experience, heightening the terrible reality of lost lives and dreams.  Photographs, sidebars and illustrations by Wendell Minor provide needed visual insight into the people and the dangers.  Lourie ends with notes from the author, notable places, a timeline of London's life, bibliography and index. THOUGHTS:  This is not biography of London's entire life, nor is it meant to be.  Covering this year of inspiration (which ended when London developed scurvy) can easily inspire young people to seek out London's novels and short stories.  London's personality comes through as a persistent and optimistic man.
Biography          Melissa Scott, Shenango High School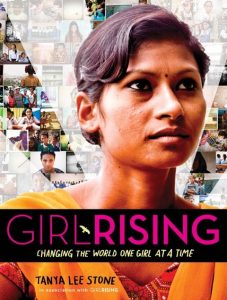 Stone, Tanya Lee. Girl Rising: Changing the World One Girl at a Time. Wendy Lamb Books, 2017. 978-0553-511468  $22.99  195 pp.  Gr. 7-12.
Girl Rising began as a film featuring the stories of nine girls whose situations (arranged marriage, forced slavery, and cultures that enabled it) had kept them from getting an education.  When she saw this film, author Tanya Lee Stone felt compelled to learn more, "What are the major obstacles to education, and what causes them in the first place?  Why are these issues so much more of a problem for girls than for boys?  What can we do about what seems to be an overwhelming global problem?" (preface).  She found that in more than fifty countries, school is not free.  Most often, it is the girls who are kept from school.  Poverty, gender discrimination and cultural expectations leave many families with limited choices.  Child marriage, slavery, and human trafficking exist even in countries where they are illegal.  Stone focuses largely on two sections in her book: The Stories and The Solutions.  Girls from Cambodia to India, Peru to Nepal, their faces draw readers to read their words.  The combination of clear photography, stark stories, and the girls' own words makes this book a powerful push for change.  Excellent bibliography shares books, articles, reports, websites and videos (which could be useful to share with students to drive home the reality of the girls' lives).  What Stone shows us is at once heartbreaking and hopeful.  The only drawback is the lack of any map identifying countries, to illustrate the truly worldwide nature of this problem.  THOUGHTS: It is hard to stop reading this book, since the stories are so compelling and the danger so real.  And it would be so easy for these girls to be broken.  But many are standing up, speaking out, even while (in many cases) being very careful to reveal their identities for fear of revenge against themselves or their family members.  This book shows the despair, and it shows the hope for these girls and for the world to experience their intelligence, their talents, and their bravery.  This would be a wonderful complement to fiction such as Khaled Hosseini's A Thousand Splendid Suns (Afghanistan), Staples' Shabanu (Pakistan), or Gloria Whelan's Homeless Bird (India). Also consider nonfiction: I am Malala: How One Girl Stood Up for Education and Changed the World (2014); I am Nujood, Age 10 and Divorce (2010); and Laura Scandiffio's excellent Fight to Learn: The Struggle to Go to School (2016), which details this worldwide problem for both genders and has proven popular among my high school students.
371.8 Girls & Education              Melissa Scott, Shenango High School