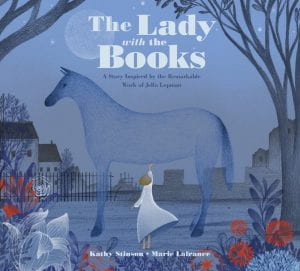 Stinson, Kathy. The Lady with the Books. Kids Can Press, 2020. $17.99. 32 p.  978-1-525-30154-4. Grades 2-5. 
Annelise and her younger brother Peter wander aimlessly through the streets of post-World War Munich. Feeling hungry and dejected, Annelise wonders why people are attempting to clean up the rubble. Outside of a building they join a queue hoping there will be something to eat. Grey, somber streets give the reader a realistic sense of the destruction Germany was facing after the war, but a lovely green tree just outside the building is a beacon of hope. Once inside, the pair is greeted by a room filled with books. Forgetting their woes for an afternoon, the children become completely absorbed. The illustrations skillfully capture a bustling archive brimming with colorful books from around the world. The children return the next day, just in time to listen as the "lady with the books" reads aloud from The Story of Ferdinand complete with translation from English to German. This story is especially comforting to Peter and Annelise, whose father was killed during the war for "standing up to" orders. Although the children cannot borrow books from the exhibit, they are encouraged to read as many books as possible. Whimsical characters and blooming flowers creep into the pages and eventually follow the children home. Annelise is able to find hope among the destruction and vows to join the rebuilding efforts. Graphite pencil and digitally colored illustrations beautifully enhance Annelise's mood transformation from hopelessness to regaining a childlike sense of wonder. Annelise, Peter and Mama are white with blonde hair while the story lady has the same complexion with short dark hair. Some diversity in skin and hair types is shown among the book exhibition crowds. Backmatter informs the reader that the children in this story stumbled upon an international collection of books at the Haus der Kunst art museum as curated by Jella Lepman. A Jewish refugee who returned home after the war, Lepman managed to create a traveling collection of books that had been previously banned from Germany, including The Story of Ferdinand which she translated and printed by the thousands to distribute among children. Later, she was able to raise enough money to create the International Youth Library, also known as the "Book Castle" and contributed to the formation of the International Board on Books for Young People (IBBY).
THOUGHTS: This picture book provides a nice mix of fantasy and historical fiction for elementary readers to get a glimpse of the impact Jella Lepman and her international book collections made on children recovering from the trauma of war.
813 Picture Book          Jackie Fulton, Mt. Lebanon SD