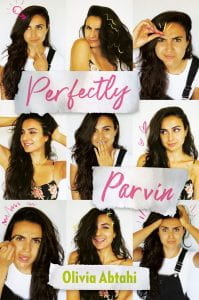 Abtahi, Olivia. Perfectly Parvin. G.P. Putnam's Sons, 2021. 978-0-593-10942-7. 310 p. $17.99. Grades 7-10.
On the cusp of starting ninth grade, Iranian-American Parvin Mohammadi has a lot going for her: her BFFs Ruth and Fabián, an aunt (Ameh Sara) in Iran who helps her apply make-up via video chat, and a cute boy who has just asked her to be his girlfriend. But days later, Wesley unceremoniously dumps her at their high school orientation. His reason? She's just "too much." After (literally) peeling herself off the linoleum to binge-watch her favorite romantic comedies, Parvin hatches a plan to secure a date to Homecoming. By modeling her behavior after the demure leading ladies of The Princess Bride, The Little Mermaid, and My Big Fat Greek Wedding, Parvin is sure she can get a new boy to like her. No more outlandish outfits, pranks, Hot Cheetos, or being too loud. In other words, none of the things that make her (yes) perfectly Parvin. But can she lock down a real relationship with a fake personality? A compelling subplot about Ameh Sara securing a visa to visit the States (and deliver make-up tutorials in person) adds timeliness and tension.
THOUGHTS: This effervescent, laugh-out-loud debut perfectly captures Parvin's humor, hijinks, and occasional humiliations. It matches the tone and depth of Netflix's Never Have I Ever and Sandhya Menon's Dimple and Rishi series. 
Realistic Fiction          Amy V. Pickett, Ridley SD