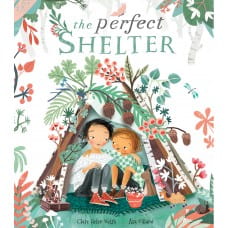 Welsh, Clare Helen. The Perfect Shelter. Kane Miller, 2020. 978-1-68464-050-8. Unpaged. $14.99. Grades K-3.
The Perfect Shelter follows two sisters who are trying to make the perfect shelter outside; however, something is wrong. One sister is sick, and the other sister has to deal with the consequences of her sister being sick and not being able to build the perfect shelter with her. As the story progresses, the sisters decide to build a shelter inside because "it's the perfect place to build a shelter." The illustrations show the progression of the older sister's sickness, as well as how the family handles and deals with it. The illustrations are absolutely beautiful.
THOUGHTS: I loved how the ending of this book doesn't promise a happy ending, merely that the family will just be together. This book could be a great conversation starter for a child who is dealing with someone in their family having an illness, or if they personally have an illness. The family is drawn as being interracial, which I also loved that representation.
Picture Book          Mary Hyson, Lehigh Valley Regional Charter Academy