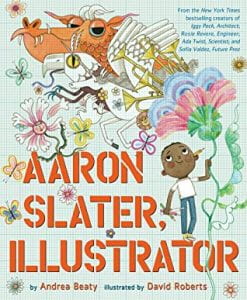 Beaty, Andrea. Aaron Slater, Illustrator. Abrams Books for Young Readers, 2021. 978-1-419-75396-1. $18.99. Grades K-4.
Aaron Slater loves stories! He loves to listen to them and draw his very own pictures. When it is time for him to go to school, he is so excited to be able to read and write his very own stories. The words, however, look like jumbled squiggles to him and don't really make any sense. Instead of standing out like he used to, he decides to fit in and be like everyone else. When requested by a teacher to write a story, Aaron struggles until inspiration hits him and he is able to create his very own story his way. With the help and support of those around him, Aaron begins to overcome his obstacles and struggles, becoming a reader and a writer, as well as continuing his illustrating.
THOUGHTS: This is another great book by Andrea Beaty! Written in text style Dyslexie to help individuals with dyslexia, we learn of a famous illustrator's struggles to become a storyteller, and gain inspiration along the way.
Picture Book          Rachel Burkhouse, Otto-Eldred SD