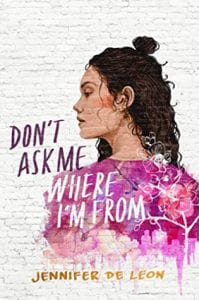 De Leon, Jennifer. Don't Ask Me Where I'm From. Caitlyn Dlouhy Books, 2020. 978-1-534-43824-8. 336 p. $18.99. Grades 9-12. 
Though nothing at home is as it should be, fine is the one word that describes 15 year old Liliana. After her father takes off (again), her family is barely holding things together. Her mom seems to be living in a fog (if you can even call it that), and her younger brothers are hard to reign in and keep calm. Even her best friend is too distracted by a boyfriend to be an ear to listen. Unbeknownst to Liliana, before he left her father signed her up for METCO, a scholarship opportunity of sorts for city kids to attend "better" schools in the suburbs. Liliana (half Guatemalan, half Salvadorian) fit right in at her richly diverse school in Boston. Not only is her new school unbelievably white, Westburg is an hour bus ride away. Liliana gives it a chance, though, because it was her father's dream. To fit in at Westburg, Liliana becomes Lili, but when she discovers some secrets about her father's citizenship, she is even more torn between her two very different worlds.
THOUGHTS: This book will find a home with anyone who is sick of the "Where are you from?" or "What are you?" questions. Liliana's story will personalize the more generalized immigration news stories for teens and will open their eyes to the struggles of undocumented citizens and the reasons so many flee to America for better opportunities. This is a must have for high school libraries looking to diversity their collections with contemporary issues.
Realistic Fiction          Maryalice Bond, South Middleton SD