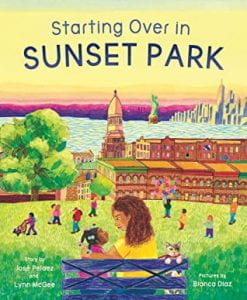 Pelaez, Jose & Lynn McGee. Starting Over in Sunset Park. Tilbury House Publishers, 2021. 978-0-884-48844-6 p. 40. $17.95. Grades 1-5. 
Brooklyn, New York, can be a lonely and intimidating place for an eight-year-old girl. Especially a girl that moves to the United States for the first time and speaks very little English. Starting Over in Sunset Park is the story of an immigrant girl finding her place in a vastly different environment than what she had previously known. Jessica and her mother Camila moved from the Dominican Republic into a crowded apartment in Brooklyn to live with cousins. With the apartment feeling a bit crowded, Jessica's mother finds work making holiday decorations in a factory so that they can afford their own place to live. Jessica also feels isolated in her new school, the playground is challenging to play in, and she cannot understand the English she hears all day long. Throughout the story, the reader feels Jessica's intense longing for her previous home and the desire to feel accepted and comfortable in this new place. Little by little, Jessica and her mother adapt to their new home, and thanks to an incredible experience, mother and daughter are inspired to make the best of their situation. Starting Over in Sunset Park will resonate with any reader who has experienced change and begun anew.
THOUGHTS: Starting Over in Sunset Park is a lovely picture book that embraces immigration, change, and overcoming obstacles. Jessica and Camilia's journey is compassionate and full of hope. With the inclusion of the Spanish Language, this picture book would resonate strongly with anyone who has ever made a home in a new country and learned a new language.
Picture Book          Marie Mengel, Reading SD