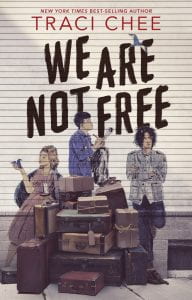 Chee, Traci. We Are Not Free. Houghton, Mifflin, Harcourt, 2020. 978-0-358-13143-4. $17.99. 384 p. Grades 9 and up.
Traci Chee's National Book Award Finalist, We Are Not Free, takes the reader from the close-knit community of Japantown in San Francisco at the start of World War II to the gradual closing of the Japanese imprisonment camps at the end of the war. Told in first-person narrative, each teen—ranging from ages 14 to 19–brings a perspective of life as an American of Japanese descent, from the growing discrimination toward the Japanese after the bombing of Pearl Harbor to the injustices of the camps to the explicit racism displayed when their families return to their former neighborhood. In a novel where credible character development is critical, author Chee shows a wide range of astute writing ability inhabiting the minds of the varied group of young people inhabiting two camps, Topaz and Tule Lake. Sensitive Aiko Harano who at only 13 realizes not only the unfairness of the American government's oppression of her family and friends, but also the repugnancy of her own parents' abusive treatment of her older brother, Tommy. Intellectual Stan Katsumoto surrenders his hard-earned dream of continuing his college education when he sides with his parents in being a "No No" person: refusing to relinquish allegiance to the Japanese emperor when no allegiance had ever been formed. Perhaps the most impressive chapter is David "Twitchy" Hashimoto's, the happy-go-lucky, ever-moving nineteen-year-old who, like several of his friends, volunteered to serve in the military, to go to war. The battle description Chee develops with Twitchy's commentary is both action-packed and gut-wrenching. Though there are other selections telling of the imprisonment of the Japanese-Americans (in an afterword, Chee advises to delete the term, Japanese internment, in favor of more accurate terms like incarceration, imprisonment, forced removal), We Are Not Free dives deep into what it was like in the camps and how it affected a non-combative community. Works like Journey to Topaz  by Yoshiko Uchida, Weedflower by Cynthia Kadohata, or Paper Wishes by Lois Sepahban—to name just a few–give readers a glimpse into this ignominious period of American history, but We Are Not Free covers the full scope and does so through the voices of teens with whom young readers can relate. This book tells a powerful story, one that has not always been fully explored, but has a new resonance in today's society. Contains further readings, some historical images.
Historical Fiction          Bernadette Cooke, School District of Philadelphia
THOUGHTS: After reading this book, I feel that all the other historical fiction books on this topic are just a prelude. If I had to choose one book to recommend on the experience in Japanese prison camps to a high school student, We Are Free would be the one. Chee is able to reveal the complications of feeling American and patriotic while also feeling unaccepted by and disheartened by one's government. In literature lessons, students can examine the character development in a short chapter. In history class, the revelations of injustices and wrongs can be debated and discussed.