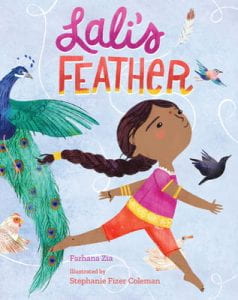 Zia, Farhana. Lali's Feather. Peachtree, 2020. 978-1-682-63129-4. Unpaged. $17.99. Grades PreK-2.
Lali is a young girl living in India who finds a feather on the ground. She asks a number of birds if this feather belongs to them. A rooster, crow, peacock, and other birds deny that the plain feather is theirs. Lali then shows that the feather is useful and uses it to write, sweep, and even to tickle her father's feet. Then, the feather catches the wind and blows away and the distraught Lali runs after it. With the help of her bird friends, the feather is retrieved and the next day, Lali finds a button. The digitally created illustrations by Stephanie Fizer Coleman are colorful and engaging. The artist gives a hint of the Indian landscape and culture in the drawings.
THOUGHTS: This story is a good read aloud and could be a discussion starter for ideas about what Lali will do next with the button. A supplemental purchase for elementary collections.
Picture Book          Denise Medwick, Retired, PSLA Member