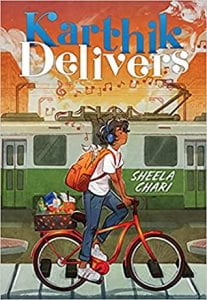 Chari, Sheela. Karthik Delivers. Amulet Books, 2022. 978-1-419-75522-4. $17.99. 255 p. Grades 6-9.
The 2008 recession has hit Alston, Massachusetts, hard. The Raghaven Indian grocery store is not doing well, so Mr. Raghaven recruits thirteen-year old Karthik as a delivery boy, a perk for his customers during the sweltering summer months. Remembering the orders is simple for Karthik; in fact, he remembers everything, including the 50 ice cream flavors at Carmine's where he and his best friends, Miles, a white crossword whiz, and Binh, a sensitive Vietnamese boy, hang out when they can. At Carmine's, Karthik also can catch a glimpse of Juhi Shah, his crush, despite her puzzling affinity for brawny bully Jacob Donnell and his wing man, Hoodie Menendez. This summer before high school becomes one of challenges for Karthik: can he stand up to Jacob who addresses him as Kar-dick; can he resist his mother's pressure to be a doctor; can he help his father's store withstand the stiff competition of the popular take-out place, House of Chaats (Juhi's family business); most of all, can he discover what he truly wants to be? When Boston University budding playwriting student Shanthi Ananth persuades Karthik to take a leading role in her twenty-minute play about a childhood incident in the life of Alston native and world-renown composer and conductor, Leonard Bernstein, Karthik's world changes. Like Bernstein, whose musical career started with the gift of a piano from his aunt, Karthik realizes he has some unmined talents as well. His delivery job shows him he has a gift for making people feel noticed and listened to; his relationship with Shanthi encourages his talent for acting and reveals that it is possible to follow one's own heart's desire, not one's parent's.  The only problem is, he has to keep this project a secret. Against the backdrop of hard financial times, Karthik juggles all the different aspects of his life–family, friends, acting, job, first love–with an authenticity that will touch readers. Chari's writing, whether in narrative or action or plot movement, makes this story so real. Though the Raghaven family and other characters suffer some bumps in life's course, they retain their senses of humor and compassion, giving the story a buoyancy and truthfulness. This novel immerses the reader in a diverse community, strong friendships, and the sacrifices made for family.
THOUGHTS: Chari has a gift for developing rich major and minor characters. Students may draw parallels between the recession happening now in 2022 and the financial crisis of the early 2000's that Karthik's family experiences. Characters are of different ethnicities, but Indian foods and dishes as well as customs and mores are dominant. Karthik's play, Being Lenny, may pique interest in Leonard Bernstein, his life and works.
Historical Fiction          Bernadette Cooke, School District of Philadelphia