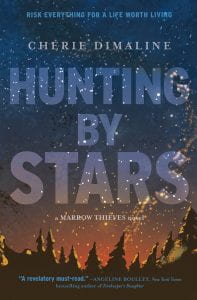 Dimaline, Cherie. Hunting by Stars. Harry N. Abrams, 2021. 978-1-419-75347-3. 400 p. $18.99. Grades 11-12. 
In a post-apocalyptic world where few can still dream, the brutal story of French begins. The ability to dream leaves people zombie-like, unable to remain physical or mentally well. The bone marrow of those who can still breathe becomes a commodity that is priceless. French is Indigenous to North America and is still able to dream, as many of his tribe. He has lived on the land for a while, but gets taken into one of the government schools where bone marrow is extracted and harvested. His tribe continues to seek survival in the wild while they work to be united. The story is dark and hopeful, heartbreaking and guttural, gripping, and terrifying. 
THOUGHTS: Technically, this title is a sequel to The Marrow Thieves, so it is an absolute must for libraries with Dimaline's other novel. It's a heavy story that has a lot of representation in a genre that has little Indigenous, LGBTQ+, and other representation. There are also many parallels to current events in Canada and the United States regarding mass graves at residential schools that would be an opportunity for discussion and curricular tie-ins.  
Science Fiction          Samantha Hull, Ephrata SD