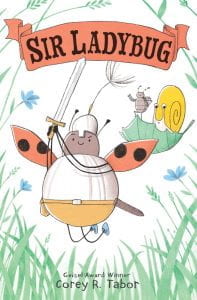 Tabor, Corey R. Sir Ladybug. Balzer + Bray, 2022. 978-0-063-06906-0. $12.99.  68 p. Grades PK-3.
This epic insect tale is constructed as an early-reader graphic novel. In four chapters, an introduction, two interludes, and an epilogue, readers will be delighted with the antics of Sir Ladybug, his Herald, Pell (an anxious pill bug), and his Trusty Squire, Sterling (a gamer snail with a penchant for cake). The three friends are on an epic quest to save a yellow caterpillar from the dreaded monster, Chickadee. Though initially tempted to hide in Sterling's shell to avoid being eaten, the friends devise an amusing plan to befriend their nemesis. Delightful and bright comic illustrations highlight the action, which is packed with non-stop humor.
THOUGHTS: At first glance this early-reader graphic novel is pure fun. Silliness abounds in both the text and illustrations. New readers and graphic novel enthusiasts will be completely amused. Dig a little deeper, and it is clear the book is also cleverly teaching literary vocabulary and structure. A fabulous read aloud or independent reading selection.
Early Reader          Anne McKernan, Council Rock SD
Graphic Novel