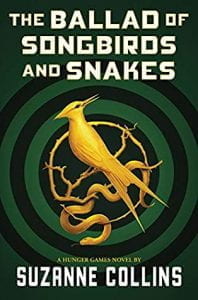 Collins, Suzanne. The Ballad of Songbirds and Snakes. Scholastic Press, 2020.  978-1-338-63517-1. $24.99. 528 p. Grades 9-12.
The much-anticipated prequel to The Hunger Games trilogy begins 64 years before Katniss Everdeen enters the arena to fight for her life. The Hunger Games are only ten years old and are not yet the spectacle they go on to become. Coriolanus Snow, future president of Panem, along with his cousin and grandmother, have sold almost all of their possessions after the war drains their finances. The Snow name is synonymous with wealth, and they struggle to maintain a wealthy facade. The Snow family motto demands it: snow lands on top. Head gamemaker Dr. Gaul pairs each tribute with a Capitol Academy mentor. Coriolanus is paired with District 12's Lucy Gray Baird, who immediately becomes a fan favorite due to her songbird voice. Coriolanus falls for her and, upon seeing the horrific conditions where the tributes are kept before the games, arranges for her to have food and medical care, a precursor to tribute treatment in the later books. But he still has strong loyalty to the Capitol. This is much different from his peer, Sejanus. He views The Hunger Games as unjust, and at times, Coriolanus sees his point. As his love for Lucy Gray deepens, he is conflicted. He believes in her but also in the Capitol. Most of all, he believes he needs to make something of himself in order to keep proving that snow always indeed lands on top.
Thoughts: Readers will want to simultaneously empathize and loathe Coriolanus. He wants to make the right decisions, but there are already glimpses of what he will become in later books. Fans of The Hunger Games will love discovering the origins of the trilogy's most important symbols, such as the mockingjay and Victors' Village. For those who have never read The Hunger Games, it serves as a good start. Similar to its predecessors', the book does have a fair amount of blood and violence and is better suited for high school readers who are sure to enjoy this action-packed origin story.
Dystopian Fiction     Danielle Corrao, Ephrata Area SD