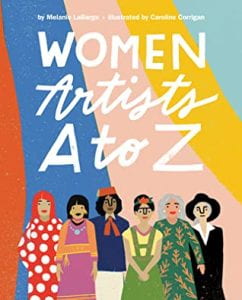 LaBarge, Melanie. Women Artists A to Z. Dial Books for Young Readers, 2020. 978-0-593-10827-7. 32 p. $19.99. Grades PreK-5.

A coffee-table art book for the youngest readers, Women Artists A to Z provides an overview of twenty-six diverse female artists. Deceptively simple at first, each vignette features illustrations inspired by a woman's distinct style, a simple portrait, and a brief (two-to-three sentence) explanation of her art. Alphabetic titles are assigned to describe a method, medium, or element of the depicted work, making this book easy to devour in one sitting yet fun to page through multiple times. "B is for Box" headlines Betye Saar's assemblage celebrations of Black history and culture while "H is for Horse" introduces Jaune Quick-To-See Smith, a Native American artist whose collage often incorporates horses. "W is for Wood" introduces Polish artist Ursula Von Rydingsvard, known for cedar sculpture. Authors notes at the back of the book include birth/death dates, associated city/country, a slightly extended biography, and a question to prompt discussion or creation. In this way, readers have the opportunity to form a basic association with each artist and her style for a diverse collection of international women in modern and classical art. Colorful computer generated illustrations fill the pages and end-pages with examples of the artists and tools highlighted. The simplicity of the text makes art accessible for elementary level students while also leaving the door open for incorporating STEAM connections, research opportunities, maker activities, and writing/drawing prompts. In addition to those mentioned in this review, artists discussed include: Mirka Mora, Helen Frankenthaler, Yayoi Kusama, Kay Sage, Georgia O'Keefe, Agnes Martin, Elizabeth Catlett, Judith Leysterm, Carmen Herrera, Edmonia Lewis, Maya Lin, Hilma Af Klint, Maria Martinez, Gee's Bend Collective, Frida Kahlo, Louise Bourgeois, Lois Mailou Jones, Alice Neel, Helen Zughaib, Ursula von Rydingsvard, Dorthea Lange, Xenobia Bailey, and Maria Sibylla Meria.
THOUGHTS: Women Artists A to Z is not a stand-alone reference. Despite the A to Z arrangement, it also is not a traditional picture book. Still, I feel it would be a great addition to an elementary library, particularly as part of  interactive display or conversation starter. At first, describing a life's work in only a few sentences deceptively oversimplifies the artists and left me wanting more information. Yet, I found myself returning to page-through again, jumping from Maya Lin ("N is for Nature) to "K is for Kitchen" (Lenora Carrington) each time soaking in new details. A great way to build curiosity and encourage research skills for students who seek  more in-depth information.
700.8 Women Artists          Jackie Fulton, PSLA Member