Rappaport, Doreen. 42 is Just Not a Number. Candlewick Press, 2017. 978-0-7636-7624-7. $15.99. 119 p. Gr. 4-8.
This reading experience brings to life Jackie Robinson, the Hall-of-Fame athlete who donned the famous baseball jersey number 42. Readers will learn more about Jackie Robinson's childhood, and his success at UCLA where he became the first student-athlete to letter in four sports. After college, readers may be shocked to learn that Jackie was drafted into the war. The segregation and racism that Jackie experienced as a child, a college student, a serviceman, and a negro league baseball player is detailed in the book. Jackie did not allow the cruelty he received to dash his dreams or those individuals that would follow. It was the moral integrity on top of his athletic skills that drew interest from manager Branch Rickey. The legacy of Robinson is clearly presented. A timeline at the end organizes the important dates and events.  Thoughts: The writing and research are solid. The addition of illustrations or photographs could have added to the reading experience for students.
Biography     Beth McGuire, Hempfield Area School District
Moritz, Rachel.  Julian Assange: Founder of Wikileaks (Newsmakers series). ABDO, 2018. 9781680789645  $23.00.  48 p.  Gr. 3-6.
This book is divided into five chapters. Supplemental information includes dates, glossary, and index. Captions are in blue font. Primary source information is included. In this book, background information about the history of computer hacking is included in a fact box as readers learn about Assange's computer interests when growing up. Following the online link, there are common core activities that can be used in the classroom along with web links including additional information.  Additional titles in the second edition of the Newsmaker series include Fidel Castro, Hillary Clinton, Ellen DeGeneres, Lin-Manuel Miranda, Elon Musk, Donald Trump, and Ivanka Trump.  THOUGHTS: These books are contemporary biographies to add to your collection. The additional features in the book can be helpful for class research or individual curiosity.
Biography      Beth McGuire, Hempfield Area School District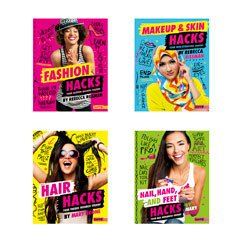 Rissman, Rebecca. Beauty Hacks. Capstone, 2018.  978-1-5157-6835-7. 40 p. $93.36 set of 4. Gr. 4-8.
Books in this series include Makeup & Skin Hacks , Fashion Hacks, Hair Hacks and Nail, Hand, and Feet Hacks. A recipe for body scrubs is one of the many hands-on activities included in Makeup and Skin. The directions provide pictures and detailed steps. Directions for ombre dye and tie-dye leggings can be found in Fashion Hacks. Each section has clearly identified headings and engaging magazine-like layout.  THOUGHTS:  The book will appeal to students that enjoy fashion magazines like Teen Vogue or Seventeen. With the wide topics and strong binding, these books will have staying power.
600s, Fashion      Beth McGuire, Hempfield Area School District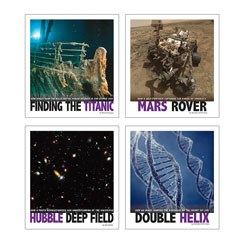 Captured Science History. Compass Point, 2018.  978-0-7565-5660-0.  $103.96 set of four. 64 p. Gr. 5-9.
Double Helix: How an image sparked the discovery of the secret of Life by Danielle Smith-Llera contains four chapters, a timeline, glossary, additional resources and an index. The other books in this set are Hubble Deep Field, Finding the Titanic, and Mars Rover. The layout of the book includes effective use of whitespace. The engaging writing style generates the excitement that the deoxyribonucleic acid discovery generated. Background information and contemporary questions regarding DNA are detailed. Featured individuals include biophysicist Rosalind Franklin and her important photograph "Photo 51", and one of the first molecular biologists, Oswald Avery, The timeline includes pictures to reinforce the facts. The book concludes with a glossary, additional resources, critical thinking questions, and an index.  THOUGHTS: This is a wonderful series to add to a collection to engage students and enhance science research projects. Other Captured series from Capstone include Captured Sports History and Captured World History. All series have the same exquisite layout.
Science, Technology     Beth McGuire, Hempfield Area School District