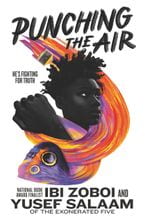 Zoboi, Ibi and Yusef Salaam. Punching the Air. Balzar + Bray, 2020. 978-0-062-99648-0. 400 p. $19.99. Grades 9-12. 
Punching the Air follows Amal Shahid, a talented art student who is seen as disruptive in a prestigious school based on the color of his skin. Early in the book, you learn that he has been caught up in an altercation with other boys, and he ends up being convicted of a crime he didn't commit and sent to jail. Amal turns to words to convey what he's feeling, even if he doesn't understand what he's feeling. This novel is told through poetry which makes it feel so much more powerful than if it was told in a regular novel format. Readers feel so much empathy for Amal and his situation, and there were many points where readers will want to reach through the book and hug him. The lyrical writing gives insight into how young people feel in our justice system: the hopelessness, the fear, as well as the anger. 
THOUGHTS: This is a must read and a must own for every upper middle and high school library. Just be aware of the themes of racism, as well as the descriptions and discussion of jail.  
Novel in verse          Mary Hyson, Lehigh Valley Charter Academy
The name Amal means hope, and hope is exactly what Amal needs after he is convicted of aggravated assault and battery of a white boy. Although Amal knows the truth, that he might have thrown the first punch but not the last, his hope lies in Jeremy Mathis waking up from his coma and telling the truth. But, Amal is more than just anger or a black boy living up to the path laid out for him – for boys from his neighborhood. Amal is art and poetry; he is creative and spiritual; loving, a son, a cousin, a friend. But in prison, Amal must turn parts of himself off; he must be cold, quiet, and suspicious to survive the beatings and cruelty from guards and other inmates. He must contain his anger, so he can flourish in poetry and art and grow from his experiences to find the window back to the world that was and will be forever changed.
THOUGHTS:  Punching the Air is a phenomenal story about wrongful incarceration and the cruelty of the justice system.  Although Zoboi and Salaam share much hope through Amal, they also present the harsh realities of a broken system, a system that sent Salaam to prison as one of the now Exonerated Five. This novel-in-verse is eloquent and honest; it stabs the reader again and again, but then heals her over and over. Amal is a hero while the justice system is the villain.  He continually is beaten down, and yet he rises. This is a must have for all high school collections. On a final note, many of the poems and lines resonate with readers, but for me, this verse says it all.  "The bookshelves here / are not walls / They're closed windows / and all I have to do / is pull out one book / to make these windows / wide open" ("Booked II").
Novel-in-Verse        Erin Bechdel, Beaver Area SD
Realistic Fiction