Cossanteli, Veronica. Ill. Roman Muradov. The Extincts. New York: Henry Holt and Company, 2016. 978-1-62779-403-9. $16.99. 230p. Gr. 3-5.
George Drake needs a job so he can replace his stolen bicycle. The employment he finds, or that finds him, is hardly ordinary. The posting for the position at Wormestall Farm seems tame enough:  "Interest In Wildlife Necessary." Then again, "Wildlife" does not usually include extinct carnivorous ducks or a Dodo bird that has nesting issues, and that's just the beginning.  There are many more fantastical beasts to be cared for as well. Did you know that snakes that eat their own tails are actually very hard to feed? As George becomes aware of how very real these animals are (as in, they will draw blood when they bite you), he finds himself doing strange things to keep their secret safe. In the middle of all this appears the girl who stole his bicycle. George does not want to be nice, nor forgive her. But the unicorn and dragon at Wormestall seem to think differently.  THOUGHTS: If you enjoyed the Imaginary Veterinary series by Suzanne Selfors, this will be right up your alley. The idea of this book is a great one! George is not an easy character to like in the beginning because of his actions towards the new girl at school.
Realistic Fantasy           Emily Woodward, The Baldwin School
Sepahban, Lois. Paper Wishes. New York: Margaret Ferguson Books, 2016. 978-0-374-30216-0.181p. $16.99. Gr. 4-7.
Ten-year-old Manami is a Japanese American girl living with her family on Bainbridge Island during WWII.  Shortly after the attack on Pearl Harbor, she and her family are forced out of their home and sent to the Manzanar internment camp in the middle of the California desert.  Manami attempts to sneak her dog, Yujiin, into camp with her, but a soldier catches her and takes the dog away.  After that, Manami becomes mute and depressed.  Although she won't talk to anyone at the camp, she writes and draws her thoughts and wishes down and releases them into the wind in the hopes that they will come true.  As time goes on, Manami learns to find hope in the midst of a somber situation and is eventually able to find her voice again.  Simple vocabulary and prose that is direct and to the point will make this a fast read for students looking for a touching portrait of daily life in Japanese American internment camps. THOUGHTS: There are many excellent fiction and nonfiction titles on the market pertaining to Japanese American internment during WWII, including Kadohata's Weedflower, Hughes's Missing In Action, Sandler's Imprisoned: The Betrayal of Japanese Americans During World War II, and Houston's Farewell to Manzanar.  This title would pair well with any of these.  This title is also an outstanding addition to any multicultural collection, as there are many references to Japanese traditions throughout the book, including tea ceremonies and the use of lanterns and painted fans to honor ancestors.
Historical Fiction                Julie Ritter, Montoursville Area High School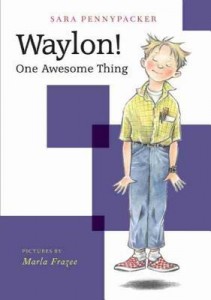 Pennypacker, Sara. Waylon! One Awesome Thing. New York: Disney Hyperion, 2016. 978-1484701522. 208pp. $15.99. Gr. 2-5.
Waylon knows a lot of amazing facts. He also has tons of great ideas for scientific discoveries, even if adults think it's science fiction. Waylon has troubles that not even science can fix, all the boys are being put on two different teams by the popular kid. Also, his older sister has transformed into something strange; his parents call her a teenager, and the boy down the street calls her scary. When a known bad boy returns after a year away, Waylon is kicked off his team and only has the delinquent to converse with.  THOUGHTS: Waylon is an odd kid. He blurts out facts in class, and is insecure socially. Yet throughout he is a positive protagonist. Waylon struggles and has his down moments, and his sister helps him work through these times. Then Waylon finds a way to solve his own problems, and in doing so helps everyone around him.
Realistic Fiction          Emily Woodward, The Baldwin School