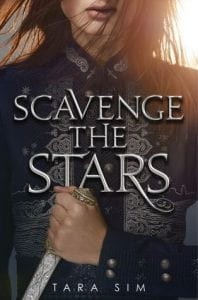 Sim, Tara. Scavenge the Stars. Disney Hyperion,  2020. 978-1-368-05141-5. $12.99. 377 p. Grades 9-12.
"To inherit the sky, you must first scavenge the stars." In this retelling of the classic novel, The Count of Monte Cristo, Amaya has been living on a ship called The Brackish for years. She became indentured after she was sold by her family to work off a debt. It's a rough life, and like the other "water bugs" that share her fate, she's counting down the days until she's free. Their cruel captor and captain renames each indentured child, and on his ship, she's known only as Silverfish. After rescuing a man from drowning, she hopes she will be rewarded with riches. Instead, he makes her an offer she can't refuse. Meanwhile, Cayo Mercado is trying to redeem himself in the eyes of his father after getting into debt from gambling. He starts working at the family owned shipping company, but when his sister comes down with ash fever, his choices are limited, and he winds up back in the life he tried to leave behind. Unknowingly, Amaya and Cayo's lives become intertwined, and both characters must untangle a web of secrets and lies to reveal the surprising truths about the people they thought they knew and trusted.
THOUGHTS: This book was fantastic! I was hooked from the very beginning to the last page. It's full of twists and turns, secrets and betrayals, and characters fueled by revenge and justice. As in The Count of Monte Cristo, the classic novel this book is loosely based upon, revenge is never as simple as it seems, and no one can really be trusted.
Fantasy          Emily Hoffman, Conestoga Valley SD