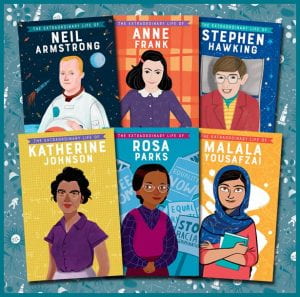 Howard, Martin. Extraordinary Lives. Kane Miller EDC Publishing, 2020.  $5.99 ea. $35.94 set of 6. 128 p. Grades 2-5.
Neil Armstrong. 978-1-684-64073-7.
Anne Frank. 978-1-684-64072-0.
Stephen Hawking. 978-1-684-64075-1.
Katherine Johnson. 978-1-684-64074-7.
Rosa Parks. 978-1-684-64077-5.
Malala Yousafzai. 978-1-684-64076-8.

This reviewer read Neil Armstrong in the Extraordinary Lives series. This illustrated novel, written for grades 2-5, tells the story of Neil Armstrong from his nomadic childhood through his famous first steps on the moon, and his years after his famous moonwalk until his death in 2012. Includes quotes throughout the text, a Timeline, a Some Things to Think About section, and an Index.
THOUGHTS: This series would be an excellent addition to an elementary library. These kid friendly books will appeal to those who enjoy biographies and may just lure in those reluctant readers as well. Illustrated throughout the story, the text is presented in a very reader friendly manner.
92 Biography          Krista Fitzpatrick-Waldron Mercy Academy