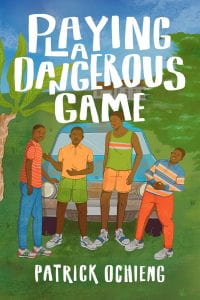 Ochieng, Patrick. Playing a Dangerous Game. Norton Young Readers, 2021. 978-1-324-01913-8. $17.95 186 p. Grades 5-8.
A coming-of-age young adult novel by a skilled Kenyan author, this book offers a glimpse into the life of Kenyan boys in the 1970s.  Lumush and his family are doing quite well after his father gets a promotion at his job, but the teenager is understandably worried about changing schools and still being able to relate to his long-time neighborhood friends. As Lumush and his friends hang around after school each day, talking and playing small pranks and games, they eventually work up the nerve to explore a nearby abandoned house that many people think is haunted. What the group find during their explorations is more than they bargained for, and they are caught in the middle of a dangerous, and perhaps murderous, illegal smuggling operation. 
THOUGHTS: Mystery, adventure, friendship and personal growth are all major elements of this unique novel. Lumush's life, including his family, his friends, and his school troubles, are described in rich detail. This book offers a fascinating peek into the lives of Kenyans during the 1970s; although politics and economics are mostly mentioned in passing by adults in Lumush's life, students with an interest in Kenyan history could use this novel as a way to contextualize the facts found in traditional history books. 
Mystery           Erin Faulkner, Cumberland Valley SD