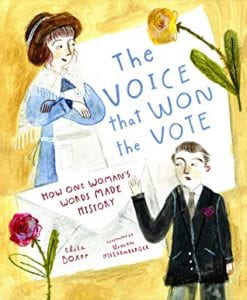 Boxer, Elisa. The Voice That Won the Vote: How One Woman's Words Made History. Sleeping Bear Press, 2020. Unpaged. 978-1-534-11049-6. $16.99. Grades 2-5.
This picture book biography tells the lesser known story of an important contributor to women's suffrage. Since 1848, women had been lobbying for voting rights and finally in 1918, Congress passed the 19th Amendment, giving women the right to vote. The final step in the process was state ratification and by 1920, it all came down to one last state-Tennessee. State lawmakers there were under pressure to reject the amendment, and one woman decided to do something about it. Febb Burn was a college educated woman from Tennessee, who loved to read and study lawmaking.  She knew the vote was close, so she wrote a letter to her son Harry, who was a state lawmaker. She asked him to support the amendment and not to "keep them in doubt." Although Harry Burn had voted no in the first round, he surprised everyone by breaking the tie with his Aye vote, thus "freeing seventeen million women from political slavery." By using her own voice, Febb Burn helped women gain the right to vote so their voices could be heard. The back matter contains details about the letter and a timeline of the suffrage movement. The author discusses the similarities between the anti-slavery movement and women's fight for equality. Mildenberger has created charming illustrations with a folk art quality and includes a photograph of Febb in one of them.
THOUGHTS: Since 2020 was the 100th anniversary of the ratification of the 19th Amendment, this story is especially relevant. This book could be used in social studies or civics units to spark discussions about the Constitution and civil rights and would be a good read aloud during Women's History Month. A worthwhile purchase.
324.623 Voting Rights          Denise Medwick, Retired, PSLA Member
Suffrage, Voting and Electoral Process
921 Biography