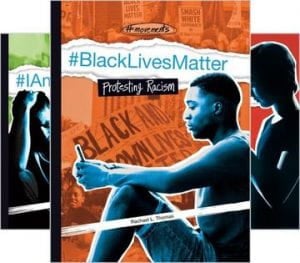 #MOVEMENTS. ABDO Publishing, 2020. $20.95 ea. $125.70 set of 6 (library bound). 32 p. Grades 5-9.
Borgert-Spaniol, Megan. #MeToo: Unveiling Abuse. 978-1-532-11931-6.
Felix, Rebecca. #Pride: Championing LGTBQ Rights. 978-1-532-11933-0.
—. #WomensMarch: Insisting on Equality. 978-1-532-11934-7.
Rusick, Jessica. #IAmAWitness: Confronting Bullying. 978-1-532-11930-9.
Thomas, Rachel L. #BlackLivesMatter: Protesting Racism. 978-1-532-11929-3.
—. #NeverAgain: Preventing Gun Violence. 978-1-532-11932-3.
This new series takes a look at the hottest topics of 2020. The #movements series takes hashtags that are trending on social media and brings awareness to social justice issues such as bullying, racism, and more. Each title provides an overview of the topic and introduces people who are champions for social justice. The books provide a look into how these movements came into being and provide information regarding the reasons why we fight for certain rights.
THOUGHTS: This series would be a great addition to a middle school library. These titles can help the younger generation be champions for the future. The simple text is easy to read and comprehend, which would make it a great series for struggling readers who have an interest in social justice.
306.76 Culture & Institutions          Jillian Gasper, Northwestern Lehigh SD