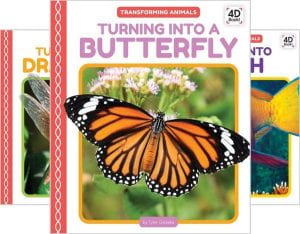 Gieseke, Tyler. Transforming Animals. Abdo, 2022. $21.95 ea. $131.70 set of 6. 24 p. Gr. K-2. 
Turning into a Butterfly. 978-1-098-24114-8.
Turning into a Dragonfly. 978-1-098-24115-5.
Turning into a Fish. 978-1-098-24116-2.
Turning into a Frog. 978-1-098-24117-9.
Turning into a Jellyfish. 978-1-098-24118-6.
Turning into a Newt. 978-1-098-24119-3.

The ability of animals to transform and grow has been a source of fascination to people of all ages for centuries. The Transforming Animals series explores the life cycle processes of six common creatures. This reviewer had the opportunity to examine the Turning into a Butterfly volume. The text takes readers on a journey of the life cycle of the butterfly–from egg to caterpillar to chrysalis to adult butterfly. Each spread includes high-quality close-up photos of each stage of the butterfly's life cycle. QR codes within the book allow readers to access a video, additional information, useful links and activities. Back matter includes a Making Connections page and a glossary. 
THOUGHTS: This series would be a worthwhile addition to any library serving primary age students. The life cycle of each animal is clearly and simply explained. Characteristics of each animal are also identified and explained. The supplemental material available via QR code is high-quality, and the activities easily could be incorporated into classroom science lessons. Highly recommended.
570s; 590s Insects, Animals           Elizabeth Henry, Lampeter-Strasburg SD