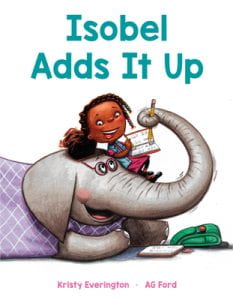 Everington, Kristy. Isobel Adds it Up. Penguin Random House Studio, 2021. 978-0-593-17810-2 p. 40. $17.99. Grades K-2.
Isobel is a math fanatic! She thinks in numbers and thrives when she can connect with addition, subtraction, multiplication, and division in her daily routines. Isobel is also a problem solver but trying to figure out who is causing the noise in her neighbor's house is one problem she cannot figure out. Is it a marching band? Is it a basketball team? Isobel doesn't know what to do about all the noise, but she needs to figure out how to end the nonsense to concentrate on her math homework. Just when Isobel reaches frustration in solving the problem, the solution comes from a most surprising place!
THOUGHTS: I adore this STEAM picture book that connects literacy and math in a fun and engaging way with a fierce little girl at the center of the story. This story would make a great read-aloud in classrooms, libraries, or at bedtime! My favorite part of the book is that the solution to Isobel's problem is dealt with a gesture of kindness– an appropriate response from the main character herself.
Picture Book          Marie Mengel, Reading SD