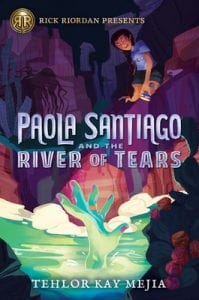 Mejia, Tehlor Kay. Paola Santiago and the River of Tears. Disney-Hyperion, 2020. 978-1-368-04917-7. 350 p. $16.99. Grades 4-7.
Scientific Paola just eyerolls when her superstitious mother talks of spells, wards, and evil beings like La Llorona, the creature who roams the river stealing children to replace those she lost. But Paola and her friends Emma and Dante do respect the Gila River near their Arizona home. Several local children have drowned in the waters. Not that that stops them from lying to their parents and hanging out on the banks of the river. But when Paola repeatedly has dreams of a creature reaching out of the waters and grabbing her, and Emma disappears one evening, Paola begins to reconsider whether her mother's superstitions are as ridiculous as she always assumed them to be. When the police refuse to listen to Paola, she and Dante decide to take matters into their own hands. Armed with support and advice from a most surprising source, they venture into a world of legendary monsters battled by lost children, shocked to discover their own roles in this world that shouldn't exist. Paola Santiago, part of the Rick Riordan imprint, is a page turner from the very beginning. Pao is a delightful protagonist, supported by her two best friends. Scientific-minded, fascinated by space, she is stunned by the existence of magic, myth, and monsters. Dante and Emma are strong characters as well (in every sense of the word), and the various creatures they encounter don't stand a chance against the combined wiles of the trio. But Pao also learns that there is more to life than what the power of physics can prove and becomes closer to her mother through the ordeal. Paola and Dante are Hispanic; Emma is white.
THOUGHTS: Paola Santiago and the River of Tears is an exciting page turner that is hard to put down. Paola is a feisty heroine who is easy to love and is sure to gain legions of fans. Add this to your collection if other mythology-based books are popular.
Fantasy/Mythology          Nancy Nadig, Penn Manor SD