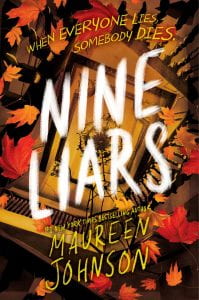 Johnson, Maureen. Nine Liars. Katherine Tegen Books, 2022. 978-0-063-03265-1. 445 p. $19.99. Grades 9-12.
High school detective Stevie Bell in England investigating murders of two university students in 1995 makes for page-turning reading, particularly for devotees of the Truly Devious series. Stevie's boyfriend, David is studying in England and persuades Stevie to come not only to be with him but also to help his friend Izzy whose Aunt Angela is still troubled by the unsolved murders. Inserted in the present narrative of the book are sections that explain the circumstances of the murders. Nine friends, connected through their comedy writing and performances, go away for a weekend at Merryweather Manor, the luxurious country home of one of the circle to celebrate their impending graduations from Cambridge University. They wake in the morning to two of their group hacked to death with an ax in a locked woodshed on the property. Keeping the murder angle under her hat, Stevie convinces Dr. Quinn, the head of Ellingham Academy in Vermont, that she and her friends (Janelle, Vi, and Nate) should take advantage of this invitation for a week-long study abroad. An initial meeting with Aunt Angela to ascertain the scope of the case turns sinister when Angela goes missing. Stevie sets her sleuthing prowess into high gear, sorting out clues from Angela's home and interviewing The Nine, now in their forties. As the week progresses, Stevie and the group get a descriptive tour of London while Stevie's and David's romantic trysts get thwarted at every turn. Stevie and her classmates meet up with The Nine at Merryweather to probe what they recall about that fated night, but Stevie's efforts are curtailed when they learn devastating news. Stevie may not be as confident as her friends in mapping out her future college plans, but her tenacity shows through in following the case to the end. In gradual release, Poirot-style, Stevie uncovers the murderer, tying up all the loose threads, and keeping the reader eager for the next installment. 
THOUGHTS: Fans of mystery books will add this one to their nightstand. Johnson interjects humor when appropriate. Drinking is a constant pastime, but Stevie usually opts for the non-alcoholic beverage. She and David dance around having sex, but nothing ever happens, other than a warm feeling and deep kissing. There is some cannabis growing and use from 1990 group. Some character diversity is present: Janelle, Yash, and Theo are people of color; Nate comes out to Stevie as asexual; Vi and Janelle are a couple; one of the adult characters, Sebastian, is gay. Some of the book reads like a tour guide and also a history text; but with the flippancy and lightness of Johnson's writing, it seems interesting and fun. One thing that bothered me is how quickly Izzy, niece of Angela, recovered from her death (ah! sorry for the spoiler). It is also nice that Stevie is from Pittsburgh. 
Mystery