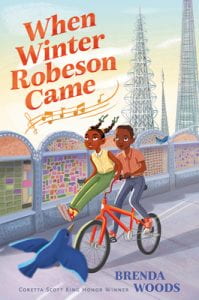 Woods, Brenda. When Winter Robeson Came. Scholastic, 2022. 978-1-524-74158-7. $16.99. 176 p. Grades 4-7.
The Coal family from 103rd Street, just west of Figueroa, not too far from Watts, is expecting a special visitor, Winter Robeson from their old hometown, Sunflower, Mississippi. The most excited person is aspiring composer, Eden Louise Coal, who hasn't seen her country cousin since the move to the great metropolis of Los Angeles two years ago. An affable Winter has come with an agenda and a plan: on his list is visiting the happiest place on earth, Disneyland; but his priority is finding his long-lost father, J.T. who has been gone for ten years. Eden joins him in his search, and together they spend two weeks of the summer of 1965 getting closer together and closer to the truth of Winter's father's disappearance. As they try to trace J.T.'s whereabouts, they dance to the vinyl records with the neighborhood kids; win the hearts of the gracious friend, Winona; and meet Miss Betty West, owner of a Steinway baby grand piano. Told in verse and narrated by Eden, When Winter Robeson Came is an uplifting story of a family reunited and a close knit community surviving on the edges of the violent Watts riots and police brutality. Eden and Winter bond in genuine friendship and concern to make each others' lives a bit brighter. That magnanimity extends to their neighbors and even virtual strangers when the need arises. The pair offer aid to the elderly, respect their parents, and kindly tolerate even friends with irritating habits. This brief, positive book offers a comforting tale against the backdrop of a tragic historical event.
THOUGHTS: This easy to read book fits lower middle grades best with its emphasis on family and its optimistic outcomes, despite the setting of the Watts riots. Perceptive students will pick up on the discrimination and racism toward people in neighborhoods in and around Watts. However, the children in this novel are nurtured and joyful. They make connections with older people and keep focused on an important task even if it puts them in danger. Pair this book with Karen English's It All Comes Down to This to compare and contrast the same historical event.
Historical Fiction          Bernadette Cooke, School District of Philadelphia