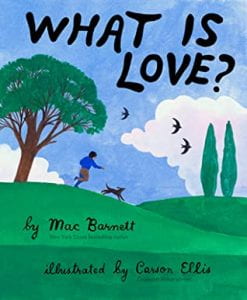 Barnett, Mac. What is Love? Chronicle Books, 2021. 978-1-452-17640-6. 44 p. $17.99. Grades 2-5. 
When a young person asks their grandmother, "What is love?" she simply responds that she cannot answer that question. The narrator (the young man) must go out into the world to find the answer. The young man encounters a fisherman, an actor, a cat, a carpenter, a farmer, and a soldier just to name a few, and asks the very same question to each of them. They all answer individually, but their responses do not quite satisfy the young man. In the end, the narrator is frustrated and exhausted and heads home from his journey where he finds his grandmother. It is only then that he discovers the answer to his hard asked question. Written as a fable but reads like meditation, What is Love? by Mac Barnett is a gentle and rhythmic tale that is clever and insightful. Made for a read-aloud experience, the beautifully illustrated picture book (by Carson Ellis) will raise questions and spark conversations. The tale becomes personal, and the lesson could be interpreted in multiple ways. 
THOUGHTS: Written as a fable, this picture book is a great story filled with figurative language and metaphors. Definitely a book for upper elementary or even middle school readers, understanding the text is a journey and would most likely spark many interpretations and heavy conversations. Or maybe, the lesson in this tale is quite simple. 
Picture Book          Marie Mengel, Reading SD