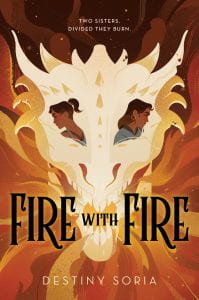 Soria, Destiny. Fire with Fire. Clarion Books, 2021. 978-0-358-32973-2. $17.99. 432 p. Grades 7-12.
Dani and Eden are sisters, and they have a secret: they come from a long line of dragon hunters and have trained to become slayers since they were young girls. Dani doesn't take her duties as a slayer as seriously as Eden, but when she comes across a dragon and they become soul bonded, everything Dani thought she knew about her family's legacy changes in an instant. Although Dani has a change of heart, Eden does not, and instead becomes mixed up with the sorcerers who use magic from dragons to fuel their own powers. Suddenly, the sisters are enemies, and each is trying to save the other from what they believe is a deadly situation, not realizing there is a more dangerous enemy threatening to destroy them both.
THOUGHTS: This is one of the first contemporary dragon fantasies that I've read, and I love that the book's setting is rural Tennessee rather than a fictional land or kingdom. It's a nice change from the many high fantasy dragon series, and I think readers will enjoy the relationship and sibling rivalry between Dani and Eden. Although they are dragon slayers, they are still sisters, and looking out for one another comes before all else. 
Fantasy          Emily Hoffman, Conestoga Valley SD