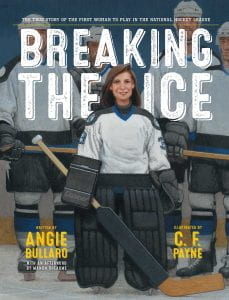 Bullaro, Angie. Breaking the Ice: The True Story of the First Woman to Play in the National Hockey League. Simon & Schuster Books for Young Readers, 2020. $18.99. Unpaged. Grades 3-6. 
Manon Rhéaume began playing backyard hockey with her brothers before the age of 5, but it wasn't until her dad's team needed a goalie that Manon started playing on a real team. In fact, Manon's father told her to keep the goalie mask on before taking the ice because people weren't ready to see a girl play on a boys' team in 1977. By 1984, Manon's talent spoke for itself. She was the first girl to play in the prestigious Quebec International Pee-Wee Hockey Tournament, and she continued to prove critics wrong as she played at higher and higher levels of boys' and men's hockey. In 1992 Manon became the first woman to play a game in any of the four men's major US professional sports when she played in a preseason game with the Tampa Bay Lightning. Angie Bullaro's picture book biography nicely details Manon's hard work, courage, and perseverance in making her hockey dreams come true. An Afterword by Manon herself encourages readers to work hard no matter what, saying "Don't let 'no' stop you."
THOUGHTS: An interesting addition to picture book biography collections.
796.962 Hockey          Lindsey Long, Lower Dauphin SD
Biography