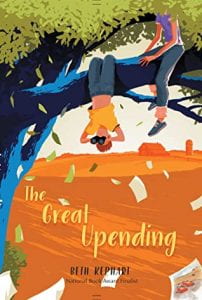 Kephart, Beth. The Great Upending. Atheneum, 2020. 978-1-4814-9156-3. 259 p. $17.99. Grades 4-7. 
Sara has what she needs: her younger brother, Hawk, her parents, the family farm with all its wonder. Hawk is her best friend, and together they navigate life. When a gentleman rents the converted silo on the farm, Sara and Hawk are expressly told to not bother Mister. But, being 12- and 11-years old, they wonder, they spy, they uncover secrets. Sara also has those things in her life she wishes she didn't have: a drought that is pushing the farm into bankruptcy, a heart condition requiring surgery, and Marfan syndrome, which has caused her to grow taller than her mother already. Sara is tired of being gawked at and whispered about when she is in town, and is miserable about the anxiety and strain her condition puts on her parents. The bankers have turned down a loan application, telling her father that the farm has no value as collateral, leaving the family struggling to find funds for her surgery. This is a secret Sara keeps from Hawk, which begins to put a strain on their relationship. However, the secret the siblings uncover about Mister just may change many lives. This is a lyrically written book first about family, then about the rare condition of Marfan syndrome. Sara's voice is wonderfully nuanced, as she rockets between being a child and a girl with too many burdens for her age. Her and Hawk's spying on Mister definitely crosses boundaries, but galvanizes the pair into a wild scheme in which Sara finds purpose and a way to forget about her health issues. Readers will fall in love with Sara and root for a happy ending for everyone.
THOUGHTS: This lovely book addresses a medical condition with which most people will not be familiar. But while Sara's illness is the nudge that drives the plot, it does not take over. Sara is a memorable character who has Marfan syndrome, not because she has Marfan syndrome. The theme that shines throughout is the closeness of family. This story will linger after the last pages.
Realistic Fiction          Nancy Nadig, Penn Manor SD