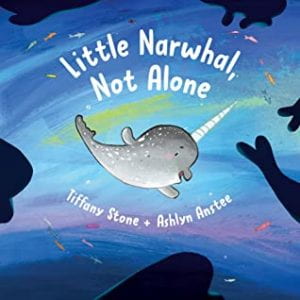 Stone, Tiffany. Little Narwhal, Not Alone. Greystone Kids, 2021. 978-1-77164-620-8. Unpaged. $17.95. Grades K-2. 
Little Narwhal, Not Alone follows a young narwhal as he explores his world, meets new friends, and has all of these new exciting adventures. However, he travels too far and ends up not finding any narwhals to spend time with, but he does find some beluga whales! But the belugas don't understand him, and he can't understand them. Over time the narwhal ends up fitting in with the belugas, and they even play together! The narwhal feels that he has found new friends to spend time with! At the end of this book there is a note from a marine biologist, stating how this book is rooted in some truth! That really adds to the book and makes the reader want to start at the beginning of the book all over again.
THOUGHTS: This is a wonderful picture book!! The illustrations add to the overall underwater feel of the story. The addition from the marine biologist at the end of the book is lovely and will make the reader want to go learn more.
Picture Book          Mary McEndree, Lehigh Valley Regional Charter Academy