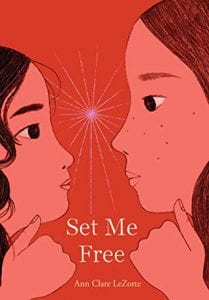 LaZotte, Ann Clare. Set Me Free.  Scholastic Press, 2021. 978-1-338-74249-7  $18.99. 288 p. Grades 4-6.
Mary Lambert, a deaf girl living on Martha's Vineyard in the late 1700's, went through an unimaginable and traumatic ordeal when she was kidnapped years ago to be studied to determine the reason for her deafness. Settled back into her life on the Vineyard, Mary is longing for a more meaningful life. When a friend from years ago sends Mary a letter asking for her assistance helping a young deaf girl to learn to communicate, Mary is hesitant but excited for this new opportunity. However, when Mary arrives on the mainland to teach the girl, she finds that her new charge is imprisoned in the attic and treated horribly! Mary must muster up the courage and support to help free this girl from her circumstances. 
THOUGHTS: For those that loved Show Me a Sign, this is a must purchase. I did not love this installment as much as the first, but the history behind this time period is fascinating. Mary is truly a feminist and has no problem sharing her beliefs. She is a wonderful female literary icon.
Historical Fiction          Krista Fitzpatrick, Abington SD