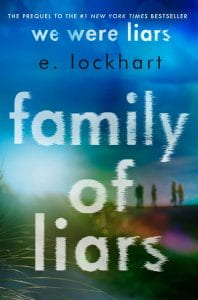 Lockhart, E. Family of Liars. Delacorte Press, 2022. 978-0-593-48585-9. 299 p. $19.99. Grades 9-12.
In this prequel to We Were Liars,  we are transported back to the 1980s on the small private island off the coast of Massachusetts that belongs to the Sinclair family. As the title states, this is a family of liars. A family that has many dark secrets. This story takes place over a summer and focuses on the Sinclair sisters and the events that will alter the lives of the Sinclairs. They are joined on their summer vacation by their cousin, Yardley Sinclair who has brought three teenage boys with her. This will not be a normal summer of picnics, fireworks, and swimming for the Sinclairs. The boys bring about a change of atmosphere to the island that will end with tragedy. The family will have to live up to their reputation as liars once again in order to survive.
THOUGHTS: First, this is a prequel and should be read AFTER reading We Were Liars.  This book will appeal to those who enjoy intrigue, mystery, drama, and ghost stories. Lockhart is able to write a story that flows so smoothly that students want more.
Mystery Fiction          Victoria Dziewulski, Plum Borough SD
Readers of We Were Liars (2014) are taken back in time to meet the Sinclair family, each a liar in their own way. Welcome to summer at Beechwood, the Sinclair family's private island off the coast of Massachusetts. Appearances are everything, and the family lives by their father Harris's mottoes: "Here in the Sinclair family…We make the best of things." At the end of the summer of 1986 Rosemary, the youngest Sinclair sister, drowns, and each family member copes separately. Rosemary is rarely mentioned after her death, though, and Carrie, the oldest of the four sisters, struggles immensely with this loss. Just two weeks after losing Rosemary, Carrie and her sisters Penny and Bess leave Beechwood for the North Forest Academy boarding school where Carrie continues to struggle. Returning to Beechwood in the summer of 1987 isn't much help, as Rosemary's things have been taken to the attic. Uncle Dean arrives with his kids, Yardley and Tomkin, and Yardley has a surprise: she's brought "the boys" (her boyfriend George and his friends Major and Pfeff). And so ensues another summer – however different – on Beechwood. Lines in the sand will be drawn and crossed, relationships will be tested, and lies will be told. But above all else, "We make the best of things."
Mystery          Maryalice Bond, South Middleton SD