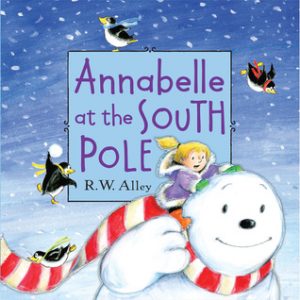 Alley, R.W. Annabelle at the South Pole. New York: Houghton Mifflin Harcourt, 2016. 978-0547907048. Unpaged. $14.99. Gr. K-3.
This book is the final book in R.W. Alley's seasonally themed quartet about four siblings and their imaginative adventures. Annabelle just wants to read her nonfiction book about the South Pole, but her brothers and sister insist on bringing her into their play. She escapes outside to find she is in the arctic and a giant snow monster is heading straight for her! Thinking fast she defeats the snow giant, but takes pity on it and puts it back together again. The abominable snow giant is grateful and carries Annabelle to her desired destination only to find the Wizard (from Mitchell on the Moon) is already there and threatening to melt the South Pole! Annabelle saves the day by grabbing the piping hot cauldron and drinking its contents (which turn out to be chocolate). The last scene is half real life, half imagination as the reader sees Annabelle and her siblings drinking hot chocolate on the front porch, while a penguin peeks out from behind the lamppost. The illustrations are bright and vivid; perfect for bringing young imagination to life.  THOUGHTS: Each book in this series is fine as a stand-alone, but if you read the whole series you get to know the children and recognize recurring elements. I enjoyed Annabelle's bravery and also the fact that she just wanted to read (when she's not having adventures in the snow, of course)!
Picture Book     Emily Woodward, The Baldwin School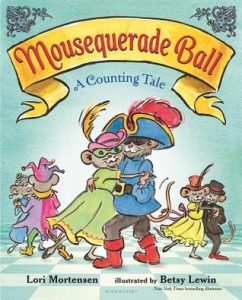 Mortensen, Lori. Mousequerade Ball. New York: Bloomsbury, 2016. 978-1-6196-3422-0. 32pp. $16.99. Gr K-3.
In this colorful counting book, mice are preparing for the evening's main event: a Mousequerade Ball! The story opens with one mouse lighting the fire and progresses until ten mouse ladies fan themselves and gasp, "Cat!" when an unexpected visitor crashes the party. The story then counts down from ten back to one as all the mice scamper away and scramble into hiding places. One brave final mouse realizes the Cat has only come to dance, and the pair waltz around the great hall together. Betsy Lewin's bright watercolor illustrations are the perfect match for this whimsical story.  THOUGHTS:  Hand this title to kindergarten teachers who are focusing on numbers and counting. The large, boldly-colored illustrations will be perfect for storytime sharing.
Picture Book      Anne Bozievich, Friendship Elementary, Southern York County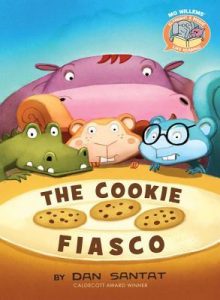 Santat, Dan. The Cookie Fiasco. New York: Hyperion Books for Children, 2016. 978-148-4726365. 50 pp. $9.99. Gr. K -2.  
Hippo, Croc and the Squirrel want to share their cookies, but how will they share them fairly?  So begins the funny adventures that subtly introduce division and fractions to the reader.  With an introduction by Mo Willems beloved Elephant and Piggy, this new series of books entitled "Elephant and Piggy Like Reading" will bring fans of Gerald and Piggy to a new set of crazy fun antics.  With the word bubbles and colorful graphics by Caldecott award winning author and illustrator, Dan Santat, the layout will attract from the beginning.  The fun and silly humor will keep kids coming back for more.  And hey, they will even learn a new vocabulary word to wow their teachers and parents. FIASCO!  THOUGHTS:  This book is a great addition to a unit or introduction to division and fractions for the early learner.  It is a fun and rather "sneaky" way to get students to divide.
Picture Book     Donna Fernandez, Calvary Christian Academy
Burks, James. Pigs and a Blanket. New York: Hyperion, 2016. 978-1-4847-2523-8. 32 pp. $16.99. Gr. Pre-K-1
Henry and Henrietta pig love their green blankie.  They love how it feels.  They love how it smells.  They plan on it.  They play under it.  Then one day, half a blanket just isn't enough.  They both want it ALL!  In an argument , the blanket gets ripped.  Now brother and sister each have half.  But, they realize that they are missing something even more important.  Each other.  This sweet, highly graphic picture book by James Burks deals with the dilemma of sharing and getting along with siblings in a way that many children will relate to.  The fun illustrations and universal theme of a blankie will help most children find common ground to realize that being together is more important than the things they own.  THOUGHTS:  This is a great addition to an early learning class unit on sharing or getting along.  Students could problem solve with Henry and Henrietta for ways that they could have resolved their dilemma without ripping the blankie.
Picture Book      Donna Fernandez, Calvary Christian Academy