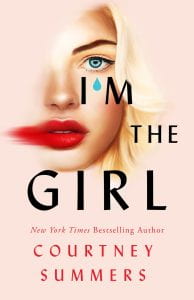 Summers, Courtney. I'm the Girl. Wednesday Books, 2022. 978-1-250-80836-3. 352 p. $18.99. Grades 10 & up.
When 16 year old Georgia Avis discovers the body of 13 year old Ashley James on the road to infamous celebrity hideout Aspera, it becomes Georgia's mission to determine what happened to Ashley. She teams up with Nora, Ashley's older sister, and is thrown into a world of money, corruption, and greed. As a child raised in the shadow of Aspera, Georgia always dreamed of becoming an "Aspera Girl," girls known for their beauty and exclusive access to celebrities. Georgia's own naive misunderstanding of Aspera and its employees gets in the way of her realizing the gravity of the situation she has gotten into by becoming employed at Aspera. As time progresses and the truth about Ashley's death becomes clear, Georgia's beliefs are challenged and hard decisions have to be made.
THOUGHTS: Summers' follow up to previous hit thrillers does not leave you wanting.  This title deals with topics such as abuse, rape, and murder much more openly and violently than previous titles by Summers. A content warning is provided at the beginning of the book and gives insight into Georgia's frame of mind as a naive girl learning about the toughest aspects of the world.
Mytstery          Natasha Lewis, Whitehall-Coplay SD