Kuehn, Stephanie. When I Am Through with You. Dutton Books for Young Readers, 2017. 978-1-101-99473-3. 304 p. $17.99. Gr. 10 and up.
Unreliable from the start, Ben tells the story of what happened on the mountain in his own way, on his own terms, and apparently from his prison cell. So begins Ben's story and how he got to be on the mountain to begin with.  Suffering from migraines and depression and being the only caregiver for his unwell mother, Ben feels trapped by his life in Teyber. He reconnects with former teacher Mr. Howe to help with the school's orienteering (exploring) club.  Rose, Tomas, Avery, Duncan, Clay, and Archie join Ben on the first hike into the wilderness. Tense from the start, this group seems to be on a doomed trip. It's not until the end that readers see just how doomed these adventure seekers are. THOUGHTS: Drinking, drug use, descriptions of casual sex, and violence make this a book for more mature teens.
Realistic Fiction, Adventure       Maryalice Bond, South Middleton SD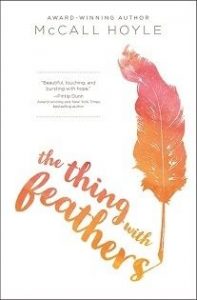 Hoyle, McCall. The Thing with Feathers. Blink, 2017. 978-0-310-75851-8. 304 p. $17.99. Gr. 9 and up.
Emilie is perfectly fine staying in the safety of her home with her mom and best friend (her seizure dog). She disagrees with her mom and her therapist: attending public school is not a good idea. She doesn't want to be known as "that girl that has seizures." When Emilie starts school, she makes a decision not to tell anyone about her epilepsy. As she gets closer to her friends and a boy she's paired with her decision not to reveal her medical condition becomes more and more critical. But it's been months since Emilie seized, so she'll be okay, right?  THOUGHTS: Readers will fly through this light-hearted and realistic sweet novel about what it means to be different and what lengths we will go to hide our differences. With a compelling storyline – Will she or won't she tell? Will she or won't she seize? – readers will fall in love with Emilie as she experiences public school, friendship, and first love.
Realistic Fiction     Maryalice Bond, South Middleton School District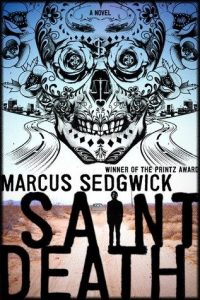 Sedgwick, Marcus.  Saint Death.  Roaring Brook Press, 2017 (1st American ed.).  978-1-62672-549-2. 227 p.  $17.99.  Gr. 9-12.
Arturo lives in a shack on the outskirts of Juarez, a Mexican city that butts up against the American border. One day, his childhood friend, Faustino, shows up begging for Arturo's help. It seems that Faustino has joined a gang and has stolen $1,000 from his boss to send his girlfriend and her baby to America. He must replace this money by the next day or he will be killed. Arturo, a skillful card player, agrees to try to win the money back, but soon finds himself in even more debt. Now, Arturo's life is also on the line. He scrambles to replace the money both he and Faustino owe before they are both killed by gangsters. Fast-paced and devastatingly honest, this title by Printz award winner Sedgwick is an excellent addition to high school libraries. THOUGHTS: Focusing on taboo topics like religion, illegal immigration, human and drug trafficking, and the exploitation of foreign workers by large corporations, this title is sure to spark a great deal of discussion and debate. Because violence is addressed in such an uncomfortable and unflinching manner, this title might be better suited for older, more mature readers. Pair this title with Linda Barrett Osborne's This Land is Our Land for a unit on immigration or with Patricia McCormick's Sold for a unit on human trafficking.
Realistic Fiction      Julie Ritter, Montoursville Area SD
Cowan, Kyle T.  Sunshine is Forever. Inkshares, 2017. 978-1-942645-62-7. $11.99. 282 p. Gr. 9 and up.
Hunter S. Thompson spends his days smoking pot with his only friend until a tragic "incident" changes everything. Desperate for acceptance and connection and wracked with guilt, he blames anyone else for the events in his past.  When he makes a couple of suicide attempts, he is sent to Camp Sunshine for depressed teens.  After being in therapy for months and on several medications, Hunter is not optimistic about the Camp Sunshine Program.  A few of the counselors and guards on staff are cruel and clueless,  though one or two seem genuinely interested and concerned for the kids.  But Hunter finds a real friend in his bunkmate Quint and a potential girlfriend in the charismatic but manipulative Corin. These connections and the questions of his therapist are helping Hunter make progress with his mental state, but when Corin convinces Hunter and a few others to join her in an escape plan, all of their chances for recovery are threatened.  THOUGHTS:  Sunshine is Forever is a raw and darkly humorous tale that tackles adolescent depression, suicide and mental health treatment in a believable way. A fast-paced read – a good choice for reluctant readers and for those who appreciate darker realistic fiction titles.   The mature themes and make it more appropriate for older teens.
Realistic Fiction            Nancy Summers, Abington School District