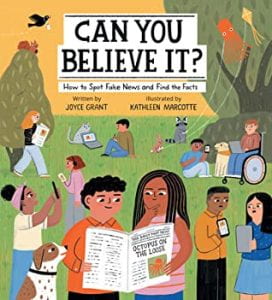 Grant, Joyce. Can You Believe It? How to Spot Fake News and Find the Facts. Kids Can Press, 2022. 978-1-525-30322-7. 56 p. $19.99. Grades 4-7.

Students are constantly searching for information online, but not all that information is trustworthy, credible, or even particularly accurate. This book, which deals specifically with "fake news" ideas, attempts to show students what makes up a credible source, teaches about journalism and journalism techniques, and points out the ways in which students can become "investigators" instead of simply believing everything they find online. Concepts like bias, satire, social media advertising, and critical thinking are covered with fun, relevant examples that kids will easily understand, and each page is packed with details and questions that could be used for further discussion. 
THOUGHTS: This is a great resource for teaching students about fake news, with concepts like bias, clickbait, and a myriad of journalism techniques clearly explained. Whimsical illustrations, manageable chunks of text, and numerous side bars and helpful explanations make this book accessible and interesting. Would be a great addition to collections where news literacy and digital citizenship are part of the Reading, English, Library or Technology curriculum.
 070.4 Journalism and News Literacy          Erin Faulkner, Cumberland Valley SD