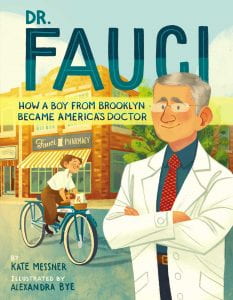 Messner, Kate. Dr. Fauci: How a Boy From Brooklyn Became America's Doctor. Illustrated by Alexandra Bye. Simon & Schuster, 2021. 978-1-665-90243-4. 48 p. $17.99. Grades K-3. 
Due to the Covid 19 pandemic, the name Dr. Fauci is a name that we have heard so many times over the last two years. Dr. Fauci is best known as the director of the National Institute of Allergy and Infectious Diseases and a face and voice we have heard in our homes and in the news as we navigated the current health crisis. However, Dr. Fauci has worked with seven U.S presidents to tackle the largest public health challenges within the last 50 years! Kate Messner, author of Dr. Fauci: How a Boy From Brooklyn Became America's Doctor, examines the doctor's life as a young boy, his time in medical school, and the challenges he faced in his personal and medical career. Dr. Fauci learned early in his life to ask questions, consider all aspects and research, and strive for perseverance and communication to tackle the most difficult challenges. This picture book also contains a timeline, accurate information about vaccines, and recommended further readings to better understand how vaccines work. Through the author, Dr. Fauci offers his own tips for future scientists! There is a little bit of everything in this well-written (and beautifully illustrated by Alexandra Bye) picture book about the life and career of Dr. Anthony Fauci and the impact he has made on our country. 
THOUGHTS: It is obvious that author Kate Messner did her research! Messner completed an extensive interview with Dr. Fauci to write this book, and the product is a thoughtful narrative with important information. Not only is this picture book presented as a biography, but it also serves as a science read as well! Timely, important, informational. Bravo! 
Picture Book          Marie Mengel, Reading SD