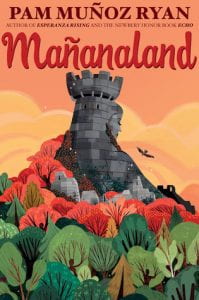 Ryan, Pam Muñoz. Mañanaland. Scholastic Press, 2020. 978-1-338-15786-4.  251 p. $16.53. Grades 3-6.
Maximiliano Córdoba has a lot. He has his hard-working, bridge builder father and his loving Buelo who cooks delicious dinners and tells fantastic stories. He has a best friend, Chuy, and a group of neighborhood boys with whom he plays soccer. He even has a playful dog named Lola. But it is what Max doesn't have that occupies his thoughts. He doesn't have the strength that Ortiz has when he throws the fútbol out of the goal, and he doesn't have a pair of Volantes, which would ensure his success at tryouts. He doesn't have the freedom to attend a summer clinic in Santa Inés with his friends. And most of all, he does not have a mother. He doesn't know where she is or why she left, and his Papá will not tell Max anything about her. "When you're older, I'll explain more," is what he hears from his Papá, but he wants answers now, and he may just get them sooner rather than later. The new soccer coach expects all players to have a birth certificate to try out for the team, and Max learns his mother took his documents with her when she left. With Papà out of town in search of Max's documents, Max finds himself thrust into an adventure of a lifetime. Will the legend his Buelo has been telling him his whole life lead Max to the answers he seeks? And will Papà finally accept that he can be trusted?
THOUGHTS:  Middle school is a time for students to explore their strengths and weaknesses and also to test the boundaries of the freedoms that come with growing up. Many middle schoolers will see themselves in Max and their parents in his Papà. The folklore adds interest to this coming of age story. Pam Muñoz Ryan's fantasy novel is a self-discovery tale for every upper elementary and middle school library.
Fantasy          Melissa Johnston, North Allegheny SD
---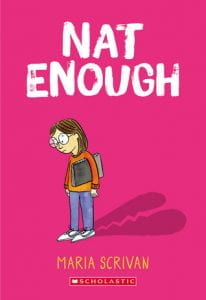 Scrivan, Maria. Nat Enough. Graphix, 2020. 978-1-338-53821-2. 235 p. $21.59. Grades 3-6.
Natalie Mariano is not enough. She is not cool enough, not athletic enough, not talented enough. Whatever you need to make you enough for middle school, Natalie doesn't have it–at all. And to make matters worse, her best friend, Lily, seems to have changed her mind about wanting to be friends with Natalie, so now she is not enough for Lily either.  Add in a disastrous first day of gym class; bully Shawn Dreary, who barks at Natalie every chance he gets; and a Jell-o frog dissection debacle, and Natalie is sure that she will never have what it takes to make it in middle school. But maybe Natalie has it all wrong. Instead of focusing on what she isn't, maybe Natalie should focus on what she is. With the help of some new friends and some old hobbies, a story contest and some new-found confidence, maybe Natalie will discover that who she is, in fact, is exactly enough.
THOUGHTS: Every middle school student has been in Natalie's shoes at one point, whether it is a falling out with a friend, that awkward feeling when trying something new, or an embarrassing moment that everyone sees. Her epiphany is gradual, but the progression is logical, and even the bullies have evolved by the end. Maria Scrivan's debut graphic novel is a perfect fit for upper elementary and middle school libraries.
Graphic Novel    Melissa Johnston, North Allegheny SD
---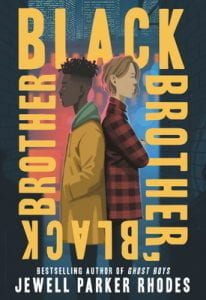 Rhodes, Jewell Parker. Black Brother, Black Brother. Little, Brown and Company, 2020. 978-0-316-49380-2. 239 p. $14.81. Grades 3-6.
Donte Ellison fit in in New York, in his multiracial neighborhood. He fit in at his old school. He does not fit in in his new white neighborhood, and he certainly does not fit in at his new school, Middlefield Prep. His brother, Trey, fits in, and everyone wants to know why Donte can't be more like Trey. But Trey has light hair and blue eyes like their father, and Donte has dark hair and brown eyes like their mother, and this makes all the difference at Middlefield Prep, and makes Donte a target of bullies, especially Alan. When Alan throws a pencil at another student, Donte is immediately blamed. Frustration turns to anger, and Donte finds himself in handcuffs in the back of a police car. No one in his school sees him. They only see the color of his skin, and Alan has made sure that Middlefield Prep is a miserable place for Donte to be. A week of suspension gives Donte time to plan his revenge on Alan, but is revenge really what Donte needs? A mentor, some new friends, and an athletic outlet provide Donte with support, purpose, and a goal that goes far beyond Alan and revenge.
THOUGHTS:  Middle grade students, regardless of race, will understand Donte's anger and frustration with not being seen or heard, but his story will resonate most with BIPOC students. White students will benefit from reading this novel as a window into the experiences of their BIPOC classmates.  A must-read for students and teachers alike.
Realistic Fiction          Melissa Johnston, North Allegheny SD
---
Lowry, Lois. On the Horizon: World War II Reflections. Houghton Mifflin Harcourt, 2020. 978-0-358-12940-0. 75 p. $16.99. Grades 4-7.
Inspired by her own personal memories, Lowry has created a wonderful contemplative work about two major events that occurred during World War II. The text, told mostly in verse, contains a single reflection per page concerning specific incidents or individuals during the time of the bombing of Pearl Harbor or the bombing of Hiroshima. These short remembrances are about some who perished and some who survived. In Hawaii, one of the Anderson twins survives the attack on the Arizona, and his ashes are buried with his brother years later. Frank Cabiness saves his watch that is stopped at 8:15, the time of the attack. The author deftly contrasts this story with Hiroshima. Four year old Shinichi Tetsutani is riding his red tricycle when the bomb falls and is buried with his bicycle. Shinji Mikamo survives the bombing, while his father does not. All he can find in the ruins is his father's watch that is stopped at 8:15.  It is details like this that make these stories come alive for the reader. The illustrations by Kenard Pak are done in pencil and add to the thoughtful tone. Part of the story is autobiographical. Lowry was born in Honolulu in 1937 and remembers playing on the beach with her grandmother while a giant ship passed by on the horizon. As an adult, she later realized this was the Arizona. As a child, she returned to Japan after the war and while riding her bicycle, sees a young boy that will become a famous author.
THOUGHTS: Lowry's work is a masterpiece made powerful by the stories of real people who were impacted by these historical events. These poignant tales will linger in the reader's mind for a long time. This is an essential purchase for all elementary and middle school libraries.
940.54 World War II          Denise Medwick, Retired, West Allegheny SD