Bornstein, Michael, and Debbie Bornstein Holinstat. Survivors Club: The True Story of a Very Young Prisoner of Auschwitz. Farrar Straus Giroux, 2017. 978-0-374-30571-0. 348 p. $16.99. Gr. 6-8.
Born in 1940 in the Nazi-occupied ghetto of Zarki, Poland, Michael Bornstein spent the first 11 years of his life enduring an incredible amount of heartbreak and despair.  When he was only four years old, he and his family were relocated to the Auschwitz concentration camp, which he, along with his mother and grandmother, miraculously survived.  Sadly, his father and brother were killed at Auschwitz.  After returning home to Zarki, Michael and his remaining family discovered they were unwelcome, and eventually ended up moving to Munich as displaced persons.  There, Michael attended a Hebrew school and his mother worked until, after six years, they were finally able to emigrate to the United States.  Throughout this honest and harrowing memoir, the power of hope is consistently reinforced, as Michael's mother is constantly reminding him: "Gam ze ya'avor" ("This too shall pass").  The book is supplemented by an afterword, a Bornstein family "who's who," captioned photographs, a glossary of Yiddish terms, and source notes. This is a powerful and memorable addition to any middle school Holocaust collection.  THOUGHTS: There are many options for using this title in a school setting.  Social studies teachers could use it to supplement a unit on the Holocaust or to spark discussion about racism and senseless murder that is still happening in the world today.  Another option would be to pair this title with fictional stories about the Holocaust, such as Jennifer Roy's Yellow Star, Alan Gratz's Prisoner B-3087, or John Boyne's The Boy in the Striped Pajamas.  As with many selections that deal with the Holocaust, bear in mind that there are some horrific scenes throughout the course of the story that may not sit well with more sensitive readers.
940.53; Holocaust       Julie Ritter, Montoursville Area High School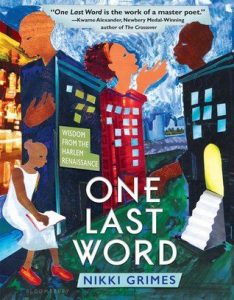 Grimes, Nikki. One Last Word. Bloomsbury, 2017. 978-1-61963-554-8. 119pp. $18.99. Gr. 5 and up.
"Can I really find / fuel for the future / in the past ?" (11) One Last Word: Wisdom from the Harlem Renaissance is Nikki Grimes at her finest.  Following the beautiful poetic structure of Gwendolyn Brooks known as Golden Shovel, which Grimes explains in the preface, Grimes pieces together new poetry amongst Harlem Renaissance poems to explore life and common experiences.  Every other poem is written by Grimes with the even poems chosen from poets such as Jean Toomer, Countee Cullen, Georgia Douglas Johnson, Langston Hughes, Paul Laurence Dunbar and many others.  Grimes highlights the line from the Harlem Renaissance poems that she uses in her Golden Shovel style poem that follows (the words in her poems are also highlighted to connect back to the original text).  Intermixed with the poems are colorful mixed media art that support the poems and experiences. Two of my favorites are "Jabari Unmasked", about how students mask themselves to fit in and often their hearts and mind are lost in the act, and  "Lessons", about the impact of poverty in life and how love and family can save. THOUGHTS:  As a teacher-librarian, Grimes poems speak to the need to raise students up and praise them for their abilities while teaching them to strengthen their weaknesses.  Poems "Crucible of Champions", "A Safe Place", "The Sculptor", and "Lessons" are just a few of the poems that remind the reader, adult or student, that life is different for each person no matter how similar they may seem.  This is an exquisite text.
Poetry     Erin Bechdel, Beaver Area SD