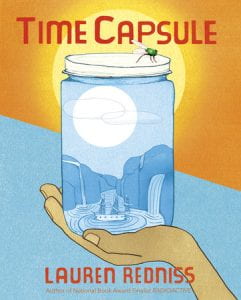 Redniss, Lauren. Time Capsule. Random House Kids, 2022. Unpaged. $18.99. 978-0-593-42593-0. Grades 3-6.
Redniss (author of National Book Award finalist Radioactive) turns her attention to time capsules as a way to remember history. The book has two parts. The first is a story of a present-day girl adding objects to her time capsule (readers could create reasons why she includes dice, a marble, a ticket….then a nightmare (about a terrible storm) and a dream (about outer space)). The second part is a ten-page author's note which reads like a history of time capsules, then concludes with a bibliography alongside instructions on how to make a time capsule. With these two parts, the book seems designed for use with older elementary students curious about time capsules. 
THOUGHTS: For students wondering about time capsules and what they would include in their own. This seems well-suited as an introduction to history and social science mixed in our memories.
Picture Book          Melissa Scott, Shenango Area SD