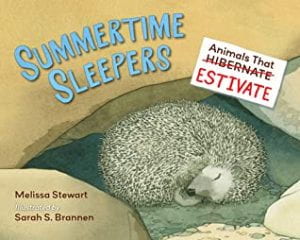 Stewart, Melissa. Summertime Sleepers: Animals that Estivate. Charlesbridge, 2021. 978-1-580-89716-7. Unpaged. $16.99. Grades K-3. 
Scientists are still learning about estivation, the opposite of hibernation. Animals that estivate sleep away the summer in cool, sometimes wet, environments while their bodies take a break from warm temperatures. Melissa Stewart provides simple text about estivation that wraps through pages while each two-page spread shows a different estivating animal from around the world. Illustrator Sarah S. Brannan's watercolor pictures show the estivating animal in their home environment topped with a notebook sketch of the animal; the notebook page also contains the animal's name, home location, scientific name, and size. Each spread includes a paragraph of information from Stewart. Featured animals include yellow-bellied marmats, Christmas Island red crabs, convergent ladybugs, and more. Excellent, supportive back matter includes more information about featured animals, a section on estivation vs. hibernation, recommended resources, author's and illustrator's notes, and selected sources. Front and back endpapers are also beautiful and add excellent visual appeal.
THOUGHTS: Interesting and appealing, suggest this book to animal lovers, kids interested in science, and any reader who enjoys learning about new topics. 
571.7 Animal Biology           Lindsey Long, Lower Dauphin SD