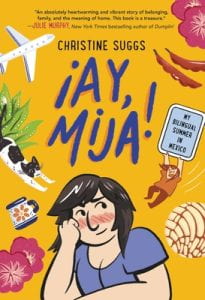 Suggs, Christine. ¡Ay, Mija!: My Bilingual Summer in Mexico. Little, Brown and Company, 2023. 978-0-316-59196-6. 336 p. $24.99. Grades 8+.
During the summer after tenth grade, Christine takes a trip to Mexico City to visit their extended family. They've been coming to Mexico since they were three, but this is their first solo trip. Christine ("Crís" to their family) is excited to see grandparents, aunts, and cousins. They are also self-conscious about exposing their body in hot-weather clothing, communicating with their limited Spanish, and blending in (their skin is pale, courtesy of their white father). They gain confidence as time passes, particularly at the family's country home in Querétaro. Crís learns about their heritage and soaks up all the sights, smells, and delicious food that Mexico offers. Author and illustrator Christine Suggs based this graphic novel on trips that they took to Mexico as a teen. Artwork is rendered in shades of blue, orange, and tan that range from muted to vibrant. In many panels, an adorable mini-Christine accompanies Crís and displays unfiltered reactions as they navigate each new experience, frustration, and breakthrough. ¡Ay, Mija! is truly a bilingual graphic novel; context clues (and mini-Christine) help, but untranslated Spanish phrases may confound readers who do not speak the language. 
THOUGHTS: This is an honest and affectionate coming-of-age graphic novel that readers of Kat Fajardo's Miss Quinces and Lucy Knisley's travel memoirs will love!
Graphic Novel