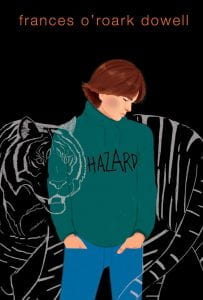 Dowell, Frances O'Roark. Hazard. Atheneum Books for Young Readers, 2022. 978-1-481-42466-0. 146 p. $17.99. Grades 5-8.
Hazard Pay Stokes, or Haz as he is known to his friends and family, has found himself temporarily suspended from football over an incident with a teammate. Haz's coach believes he needs some help with managing his anger before he is allowed back on the team. At the same time, his father has returned home from Afghanistan, which should be a happy moment for Haz. However, the reason his father came home is a tough one for the entire family, especially for Haz's dad who has to live with the consequences of what happened in Afghanistan. Even though Haz believes therapy isn't going to help him work through his feelings, he decides to play along and complete the assignments anyway and does in fact start to work through all of the tough emotions brewing inside of him.
THOUGHTS: Told through a series of emails, texts, reports, and assignments, the reader gets a close look at the events through Haz's point of view. Haz's lyrical way with words will keep the reader engaged. The topic and the format of the writing will appeal to more reluctant middle grade readers, especially boys.
Realistic Fiction          Danielle Corrao, Manheim Central SD